Officer Jay Ingram doesn't miss a chance to cheer on his Dobson Mustangs
February 26, 2022 by Ashley Madrigal, Arizona State University
---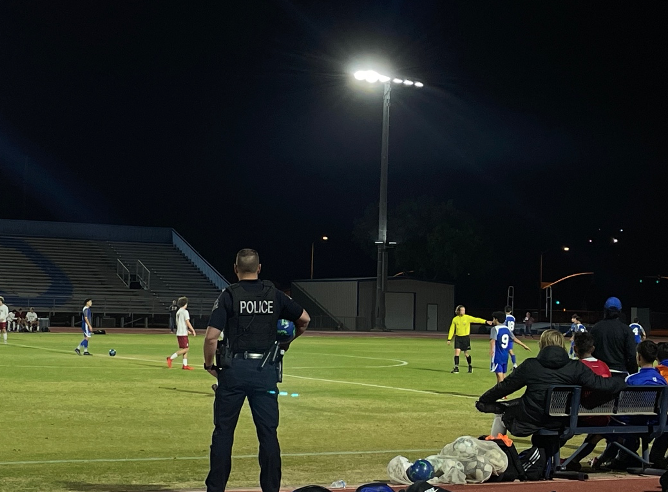 Ashley Madrigal is an ASU Cronkite School of Journalism student assigned to cover Dobson High School for AZPreps365.com
School Resource Officer Jay Ingram's main job is to keep the students at Dobson High School safe, but his duties go further than that. Ingram showcases his personality and dedication to the students by attending their sports events and cheering them on from the sidelines.
When it's soccer season, Ingram is fully engaged with the team. He encourages the kids to keep going and will even chase the balls when they are out of play. He loves soccer and used to be the announcer at all the home games. He now stands next to the coaches and will give his feedback to the team when necessary.
"Officer Jay is someone to look up to," said former girls soccer goalie Rosey McGinty. "He used to cheer for me and encourage me each game. I knew I would always have a fan in the crowd and could count on him always."
Ingram is known by the students as a trustworthy individual, and staff members admire his work ethic and personality.
"I love watching Officer Jay do his thing," said campus supervisor Leah Lynch. "He is a great person and loves to help and get involved when they need him. This is what he loves to do."
High schools around Phoenix have slowly started to dismiss their School Resource Officers, due to protestors seeking to remove all police from campuses. The Phoenix Union High School District removed officers from their halls in 2021, and the Tempe Union High School District plans to follow suit in the 2022 school year. Ingram doesn't want this to happen in the Mesa School District.
"People say officers need to be a part of the community, but they are kicking us out of the communities. I want the students to see me for who I am," Ingram said. "One thing I hope that I can do in general is to build relationships with these kids, so they can get to know me as a person. I am a person who has a family, hobbies, and goals."
Ingram hopes to remain at Dobson and will continue to cheer on the students in whatever sport they play. He wants to form a relationship with them, so when they see another officer outside of school they can feel comfortable going to them if they need help.
"I hope I leave a good impact on these students," Ingram said.