It wasn't easy but Casteel defends 5A crown
February 23, 2022 by Jose Garcia, AZPreps365
---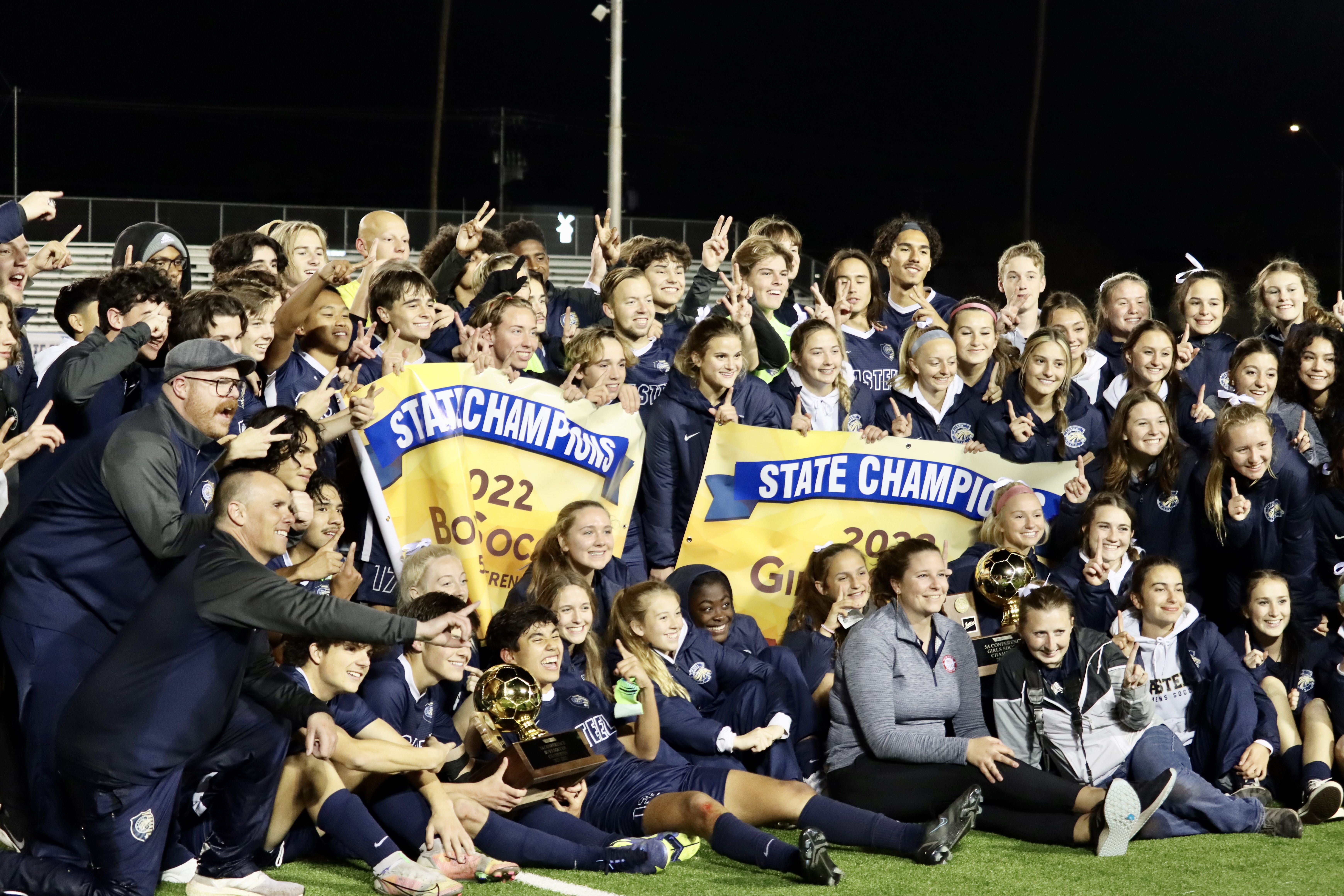 Casteel dominated last season.
Not so this season.
But it doesn't matter. What does for Casteel is how it ended both campaigns—with the program lifting the 5A Conference soccer championship trophy.
It did so Tuesday, this time at Central High after defeating this year's 5A Cinderella, Sunrise Mountain, 2-1 in overtime.
It wasn't a pretty match, but then again style points isn't what the Casteel boys were after.
"You know what," Tuesday's overtime hero Aiden Guerra said. "We still win."
Guerra, one of Casteel's captains, put pressure on Sunrise Mountain's goalkeeper and wound up with the ball near the completion of the first 10-minute overtime.
With an open net, the senior struck.
Captain Aiden Guerra, w/ 71 seconds left in the first 10 minute OT, puts Casteel up 2-1. Came over to the sideline to celebrate the goal in the 5A final: pic.twitter.com/brGnRYEd5g

— Jose E. Garcia (@AZPreps365Jose) February 23, 2022
"I was just luckily there and slotted it through," Guerra said. "I felt like I was at the top of the world at that moment. It was probably the best moment of my life."
In the final, Casteel trailed for the third time in its fourth playoff match.
Sunrise Mountain's No. 10, Bryce Grozier, was in the right spot, positioned by the near post, when he headed in an Owen Schrier throw in in the 26th minute for the seventh seed (18-5-3) and first time finalist.
But Casteel responded shortly after when its own No. 10, Jacob Aguayo, hustled his way to an errant pass to set up his team's first goal.
Aguayo's pinpoint through pass allowed teammate Charlie Bentley to beat Sunrise Mountain's goalkeeper.
Tied 1-1 in the 5A ⚽️ title game @ Central. Halftime. Sunrise Mountain scored first after a throw in. But Casteel responded a couple of minutes later. The Casteel goal and celebration: pic.twitter.com/kPxDTgZ3mI

— Jose E. Garcia (@AZPreps365Jose) February 23, 2022
"Even though we were down 1-0, I knew this team was eventually going to battle back, and then it was almost a coin flip what was going to happen in overtime," Casteel coach Greg Lanman said.
Not many scoring chances were generated but Casteel pounced on two of its best opportunities for its fourteenth consecutive victory.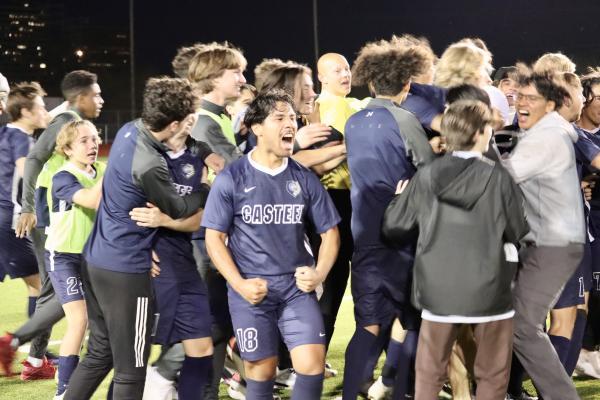 Casteel assistant coach Ben Mitchell named No. 18 Jonathan Bonilla, a senior defender, the Man of the Match for his team. Bonilla's defense gave up just seven goals during his team's final 14 matches. Photo by Jose Garcia/azpreps365The top seed in this year's 5A tournament finished 17-3-2 and won its second title in Lanman's five seasons as coach.
Casteel defends its 5A title with a 2-1 OT win. Head coach Greg Lanman is building something special on Power Rd. in Queen Creek. His boys surprised him with a well-deserved Gatorade shower after the game. Assistant coach Ben Mitchell made sure to get out of the way😂: pic.twitter.com/BZv6f7z1HD

— Jose E. Garcia (@AZPreps365Jose) February 23, 2022
What made Tuesday's win extra special was seeing Casteel's girls also win its 5A championship match at Central.
After the boys clinched their match, Casteel's soccer programs celebrated on the field.
"This is absolutely incredible," said Casteel's athletic director Ryan Ridenour about the title triumphs. "So much effort goes into this."