Perry beach volleyball faces challenges as title defense begins
February 19, 2019 by Brandon Genson, Arizona State University
---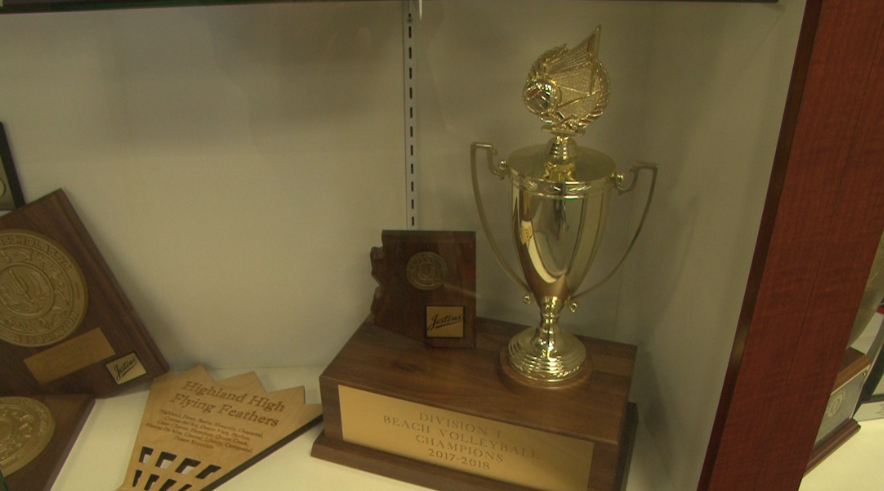 After a six-year run as a pilot program, the AIA sanctioned its first beach volleyball team championship in 2018. Perry wasted no time making its presence known, making the playoffs in every pilot season and beating Millennium to win the inaugural championship last May.
But with their title defense about to begin, coach Fred Mann doesn't see this season as a continuation of last season. In fact, he sees it as "a whole different book."
"I don't want to say a whole new crew, but it's kind of starting again," Mann said.
That approach is fitting, considering Perry faces the challenge ofreplacing five seniors. Replacing those seniors won't come without a learning curve, especially for the new batch of underclassmen joining the team.
"I think we have confidence, but I think we have a lot of learning to do and they have to learn the experience especially since they didn't go to state with us, so they have to get confidence in themselves," junior Tatum Stall said.
But rather than dwelling or feeling the pressure of having lost some veterans, the Pumas are confident those shoes can be filled.
"We have a bunch of underclassmen that can take over for the girls that left," Stall said. "We lost a bunch of seniors, which is good, so it kind of feels like we have a lot of girls that could replace the girls that left, so it was like we have another championship team coming in for another class."
While it's clear that repeating as champions won't be easy, learning curves are nothing new for the Pumas. Last season's team was made up of a combination from various backgrounds. A number of players already had experience playing beach but a number of players made the transition from indoor to beach ahead of last season. A similar mix of backgrounds is expected this season but Mann doesn't see it as a disadvantage.
"The beach girls are really, really crafty and good at playing the sport and so, if you can mix in a coordinated indoor athlete with a beach girl who's got that experience, I think it really benefits," Mann said.
The Pumas have already braved frigid nighttime temperatures in tryouts and early season practices and get have a clear-cut leader in the trenches. Senior Matea Suan is coming off posting career highs across the board for Perry's indoor team in the fall and Mann calls her the best leader he's had in 26 years of coaching.
In addition to Suan's leadership and the team's multifacetedness, Mann said the team's depth is good enough to separate the Pumas from their formidable Division 1 counterparts.
"A lot of the schools we play have got this number one team who's a bunch of superstars," Mann said. "But if we can find a way to beat them at the two, three, four, five, especially at the three, four and five levels, so I feel good about the group we've got right now."
The Pumas title defense starts on Friday against Mountain Pointe.
"We all have the same love for the game, we're all super competitive, we all love each other and we all just want to go out and win again," senior Melissa Blockey said.
---