Seton girls hoops keep spirt of Tate strong
February 14, 2019 by Alex Simon, Arizona State University
---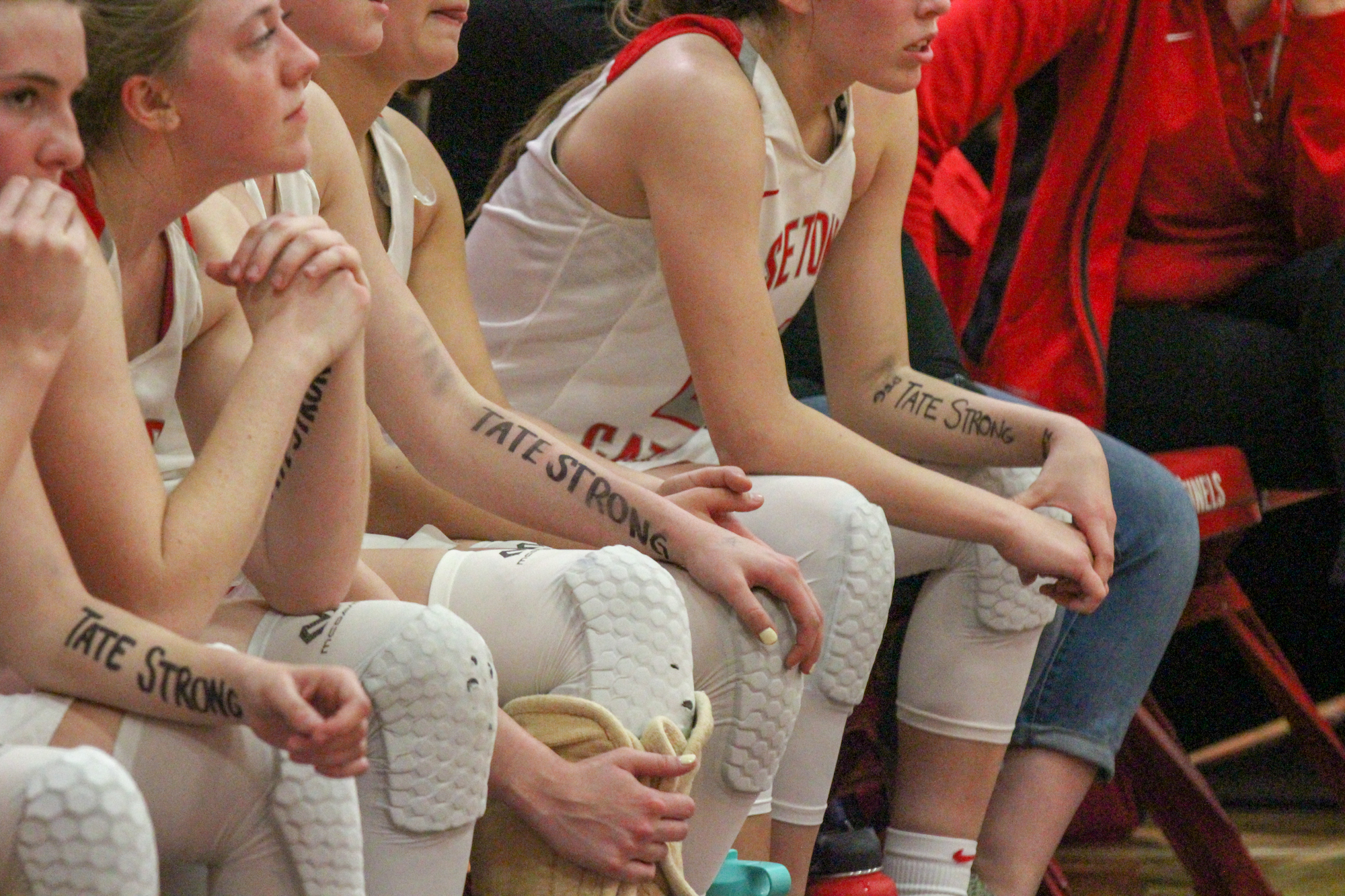 Since Jennifer King became an assistant coach for the Seton Catholic Prep girls basketball team in 2011, the seating arrangement on the bench has always been the same.
The three coaches all sat in the first three seats near the scorer's table, with King in the third seat and head coach Karen Self in the first seat. In between them sat Tiffany Tate-Eckes, a long-ago former player of Self's who sat by her side as an assistant for 12 years.
But that had to change this season. In a way, everything for the Sentinels has changed.
After a lifetime of dealing with major health issues— cystic fibrosis since birth, two different double-lung transplants, four battles with skin cancer, three bouts of esophageal cancer — the body of the greatest fighter in their lives had run out of fight. Tate-Eckes died peacefully on Sept. 29, 2018, surrounded by family. She was 35.
But while she is no longer physically with the Seton girls basketball team, Tate-Eckes' spirit, passion and energy are ever-present in everything the Sentinels have done this season. And, in everything that the team does, they remind themselves about whom they are playing this season for.
"She's a part of everything," Self said. "We feel her presence hourly. Not just daily, but hourly."
In Self's eyes, the life lessons that her players have had to learn — how to process, how to compartmentalize, how to fight on in the face of adversity — are all things they were ready to handle because of Tate-Eckes, even if they may not fully realize it at this point in life.
"It's been rough. But they've learned that lesson, and they know basketball is just a game," Self said. "There's so much more as to why we're here together. I think they probably feel that parallel to life and see it more at a younger age than maybe some other kids might because of the events that happened this year."
But that's also something that both Self and King have had to go through, too. Each admitted that the hardest challenge of this season has been trying to balance being strong as role models for their players when they may not be fully OK themselves.
"There's been moments where I'm like this," King said, her voice cracking and her eyes watering. "Gosh, we miss her a lot."
But it's also in those players that both Self and King can see the impact that Tate-Eckes had, the small pieces of her in each and every player that she coached over the years.
"The ripple effect from Tiff is profound," Self said. "She's had a huge impact on so many kids that have come through our program. You can't even quantify that. She's such an influence and such a support for the kids we've had here."
That's especially true for seniors McKenna Klecker and Kendyl Thompson. The two lone four-year varsity players both met Tate-Eckes during open gyms four years ago, when they were still eighth graders hoping to come to Seton. As they both cope with their own grief over the loss of their coach, the two have focused a conscious and consistent effort to keep Tate-Eckes' spark with the team throughout the season.
"She was definitely the energy and motivation and the team's hype man when it came to getting pumped up for games or keeping a high intensity at practice," Klecker said. "Definitely not having her for that role was hard to adjust to at first, but I think we've done a good job at keeping that intensity up and doing everything as hard and intense as she would want us doing them."
Thompson added, "It was definitely a completely different environment without her. I think both of us, as a leader, we realized we need to … not replace, but do some of the things she did for our teammates."
One of the ways that they've brought Tate-Eckes' fire to the team came before one of their biggest games of the season, a road game at Mesquite on Jan. 29 that the team needed to win to have a shot at a region title. In Tate-Eckes' style, the girls helped the team come up with a letter to be read aloud and a video to be watched before the game, which they went out and won by 21.
It's things like that, and so many other little moments, that King cannot express enough appreciation to Klecker and Thompson for taking charge of.
"I'm very proud of them that they took that on and did that, because that is not my part," King said. "I'll bring Tiff up, I'll do some of the sayings that she would use to motivate them, but doing that whole motivational presentation? I'm glad that they brought that up."
But the motivation isn't just in replicating Tate's speeches as best they can. It's in honor of her and it's for her, too.
The team has adopted "Tate Strong" as a motto, wearing it on the back of their shooting shirts and writing it on their left arms before each game. The size of that writing has grown as the season progressed, from small scribbles on the wrist to covering the entire forearm in their first-round playoff win on Wednesday.
And, before each game, there's the team huddle, where they break on, "For Tiff, we play."
"That's really important to us," Thompson said. "Just remembering her in everything that we do and remembering how she would have wanted us to play and be together as a team is really important."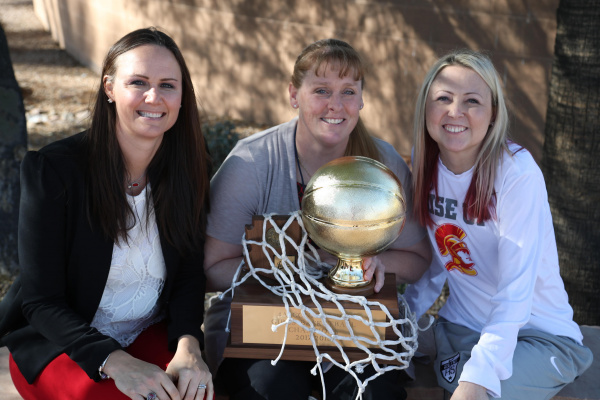 (From left to right) Jennifer King, Karen Self and Tiffany Tate-Eckes after winning the 2017-18 4A state championship. (Photo courtesy of Seton Catholic)
As the two-time defending 4A state champions look to cap off a three-peat, and send the seniors like Klecker and Thompson off to college having won a state title in all four years, there's a much higher purpose and calling this year.
"This is more than just an average season," Klecker said. "We need to keep this going and keep this momentum going for her. She's for sure still a huge part of this season. Here or not, she's here spiritually, and you can tell."
And what if Seton finishes off this season at the same spot they've ended the last three, as state champions? Self admitted it would be "the most emotional event for all of us," but that's not how Tate-Eckes would truly measure success.
"I think that Tiff wants them to fight the good fight," Self said. "We've worked so hard to improve, and we're very young, and these kids have grown so much this year as players, as people and as a team. If we go out there and fight and bring our very best, that would make her proud.
"If you could top that off with a championship, that would be icing on the cake. There's no way to describe how amazing that would be."
But no matter where the Sentinels' season ends, if you look at their bench, there will be one thing that remains a constant from last season, as it has in every game Seton Catholic has played this season. It's something that King has done so quietly, she's not even sure Self knows it's been done intentionally.
As Self usually coaches by standing on the sideline, there's always been one seat open on the bench. Volunteer assistant coach and former Seton player Kayla (Bustos) Ruffner has taken King's old seat, and King has slid over.
But she's slid down two seats, to Self's old seat. Tiffany Tate-Eckes' seat has remained hers.
Just one of the many, many ways she is— and forever will be — a part of the Seton basketball family.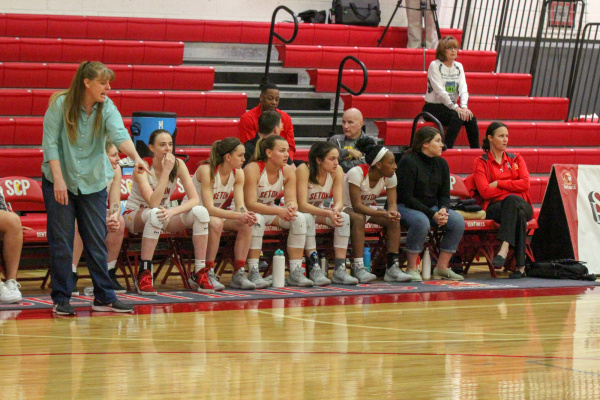 Tiffany Tate-Eckes' seat on the Seton Catholic bench (second from right) remains empty in her honor. (Photo: Alex Simon/AZPreps365)
---