Hutchison's two-goal day leads No. 8 Seton to quarterfinals
February 9, 2019 by Alex Simon, Arizona State University
---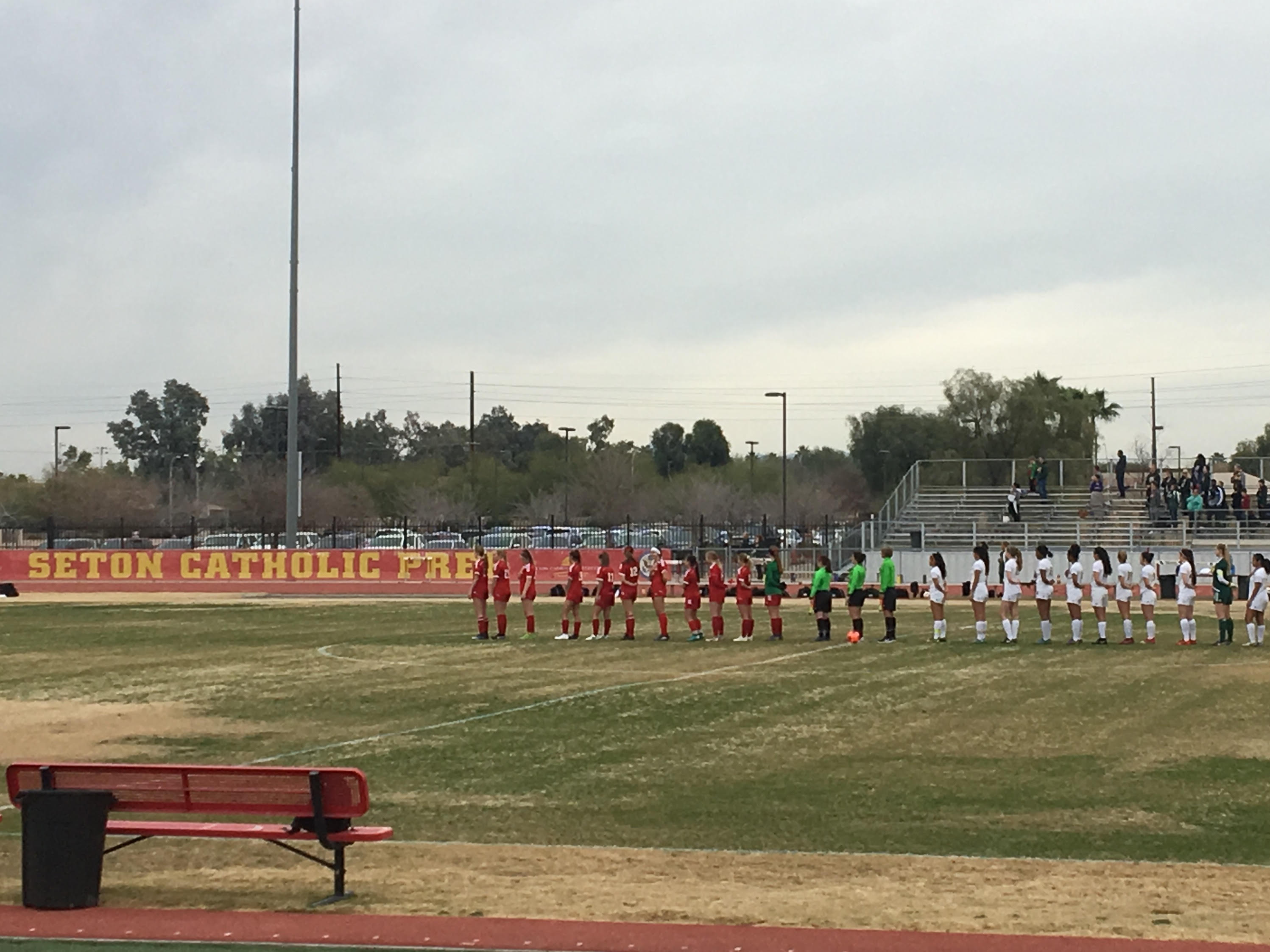 In a matchup against one of the top goalkeepers in the state, No. 8 Seton Catholic got a pair of goals from junior forward Audrey Hutchison en route to a 3-0 win over No. 9 Canyon Del Oro in the first round of the Arizona 4A state championship on Saturday afternoon in Chandler.
Facing off against Canyon Del Oro senior goalkeeper Hope Hisey, who is signed to play at the University of Arizona, Hutchison tallied a goal against her once in each half, bringing the season total for one of the state's top goal scorers to 29.
"She's been coming on," Seton Catholic coach Carlos Matus said. "She's up and down a little bit, and she needs the coaches to push her because she's maturing as a player. But she's realizing her potential, especially at this level against talent like that."
Hutchison took advantage of a collision in the box between Hisey and a Seton Catholic player in the eighth minute, collecting the loose ball and scoring in the empty net. Then, in the 48th minute, Sentinel senior winger Abby Kalley hit a cross in from the left side off of a counter attack and found Hutchison, who volleyed the ball home to give Seton Catholic a two-goal lead.
"[Hutchsion] is a very good forward," Canyon Del Oro coach David Peron said. "She's very direct and in the right place at the right time."
Kallay, who picked up her 15th assist on the cross, said that Hutchison has been "awesome" to feed the ball to. The center forward concurred and added that the goal was validation for the extra time she spends practicing on her finishes in the box.
"My personal fault is my finishing, so I work over and over and people throw the balls at me for those awkward goals that go in," Hutchison said. "Together with her crossing, it just kind of matches."
Kallay added the third goal for Seton Catholic (12-3-1) in the 56th minute, taking a centering cross from junior winger Hailie Yoder and knocking it past Hisey with the outside of her left foot for a goal, the seventh of her season. Kallay's goal came on the back end of a 32-shot barrage the Sentinels sent at the Dorados, leaving Seton Catholic feeling like there was more to accomplish on the afternoon.
"I think we're set on what we need to work on, because we do need to finish in the final third, work faster in the defense and make faster decisions," Hutchison said. "If we're going to keep moving forward in the playoffs, we need to work on our shots, our finishing and our defensive structure."
The big reason Hutchison feels like Seton needs to work on finishing is Hisey, who finished the day with 17 saves, including four stops on breakaways for Seton Catholic. Hutchison, who had five shots saved in addition to the two goals, called the Dorado goalkeeper "amazing," which is something Peron agrees with.
"Hope Hisey is a phenomenal goalkeeper," Peron said. "She's really dedicated. She's a bona fide Division I goalkeeper. We were really fortunate to have her."
The best opportunity for Canyon Del Oro (13-9) on the afternoon came in the 18th minute, when they had a free kick from just outside of the box but failed to put a quality effort on net. Peron felt his team missed on some good chances, but couldn't deny the result was fair.
"I think we had, in total, three or four good opportunities, but you have to finish it," Peron said. "I think we had flashes where we probably should have scored, but I'm proud of the girls. They worked hard and they never gave up. They just met a better team and we just got outplayed."
Seton Catholic will travel to take on 4A's top-seed Thunderbird (13-0) at 6 p.m. Wednesday after the Chiefs defeated Gila Ridge, 7-0, on Saturday. But in Matus' eyes, facing a top goalkeeper in Hisey should give Seton Catholic reason to be confident heading into Wednesday.
"They have the potential to carry on," Matus said. "We just have to keep on going as a team, play our game and be a little more aggressive in our style of play."
---