Seniors pace No. 2 Seton in win at Arcadia
January 31, 2019 by Alex Simon, Arizona State University
---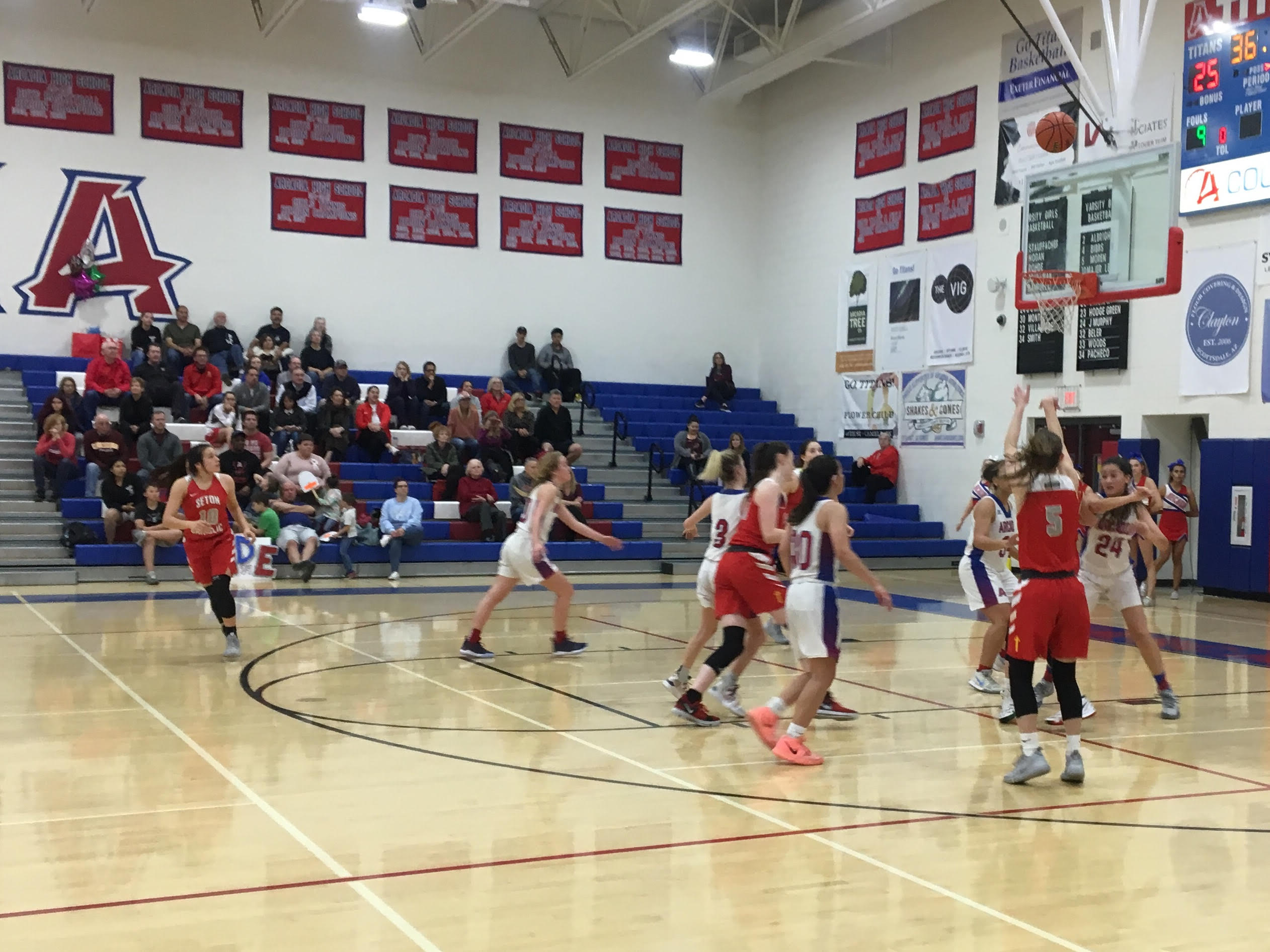 Even as Seton Catholic Prep typically starts three underclassmen, it was their two most experienced starters who led the Sentinels to a 49-27 road win at Arcadia High School in 4A Desert Sky region action on Thursday night.
Senior guard Kendyl Thompson had a team-high 12 points, and senior forward McKenna Klecker added nine points to lead the Sentinels. For head coach Karen Self, getting the consistent effort from the two lone four-year varsity players is something she cannot express enough appreciation for.
"It means the world to us because we don't have any juniors," Self said. "We have eight people who are almost entirely brand new, and we have five seniors to set the tone and set the standard to help carry on the culture of our program, to pass it on to future players, but especially Kendyl and McKenna. They mean everything."
That effort stood out the most on the defensive end, where the Sentinels held the Titans to eight points in the first half and 13 through three quarters. Both Thompson and Self enjoy the progress being made on defense by the younger players.
"I feel like our defense has come light-years since Nov. 1," Self said. "We are just a completely different team [defensively]."
Thompson added, "It's always fun just playing with the younger kids and showing them how to play defense by playing by example. It's a lot of fun."
After avenging their lone region loss with a 57-36 win at Mesquite on Tuesday night, the Sentinels (15-2, 8-1) now just have to win at home on Tuesday against Marcos de Niza (1-15, 0-8) to clinch at least a share of the region championship, which would be their third straight and their 24th region or section title in the past 25 years.
Thompson said her team felt the pressure of missing out on a region title after the overtime loss to Mesquite at home on Jan. 11, but she believes that loss has actually been a positive for the team in the long run.
"After losing that, we were just hungrier than ever and added a lot of fuel to our fire," Thompson said. "Losing that was kind of almost a blessing in disguise because it's showed us that we're not all that, and we need to keep working and keep fixing our mistakes."
One area that Self said the Sentinels will need to keep working on is ball control, as Arcadia's pressing defense gave them fits all night. Titans head coach Ives Machiz felt his team showed some steps in the right direction, especially when compared to their first matchup against Seton Catholic, a 58-18 loss on Jan. 15.
"Our girls bounced back and didn't quit," Machiz said, noting the teams finished the second half with 19 points each. "We improved from the last time we played them. Sometimes, you have to take a look at different measuring sticks. It's not about whether you won, but whether you improved."
For Arcadia, sophomore forward Payton Hogan led the team with eight points, while senior guard Sierra Montez and senior forward Jade Smith each had seven points.
Machiz was also pleased that he was able to get all six of his seniors onto the court on the Titans' Senior Night, including two players who were injured but dressed and got to get on the court for a few seconds in the first quarter.
"Senior Night's always bittersweet," Machiz said. "You know they're moving on to the next phase in life — that's why they're in high school. But on the other hand, it's kind of sad to see them go. They're such good kids and such hard workers."
The Titans (10-7, 5-4) will finish their regular season at Mesquite (15-2, 8-1)on Tuesday.
---