CatBox Classic Beach Volleyball Invitational
March 24, 2018 by Andy Morales, AZPreps365
---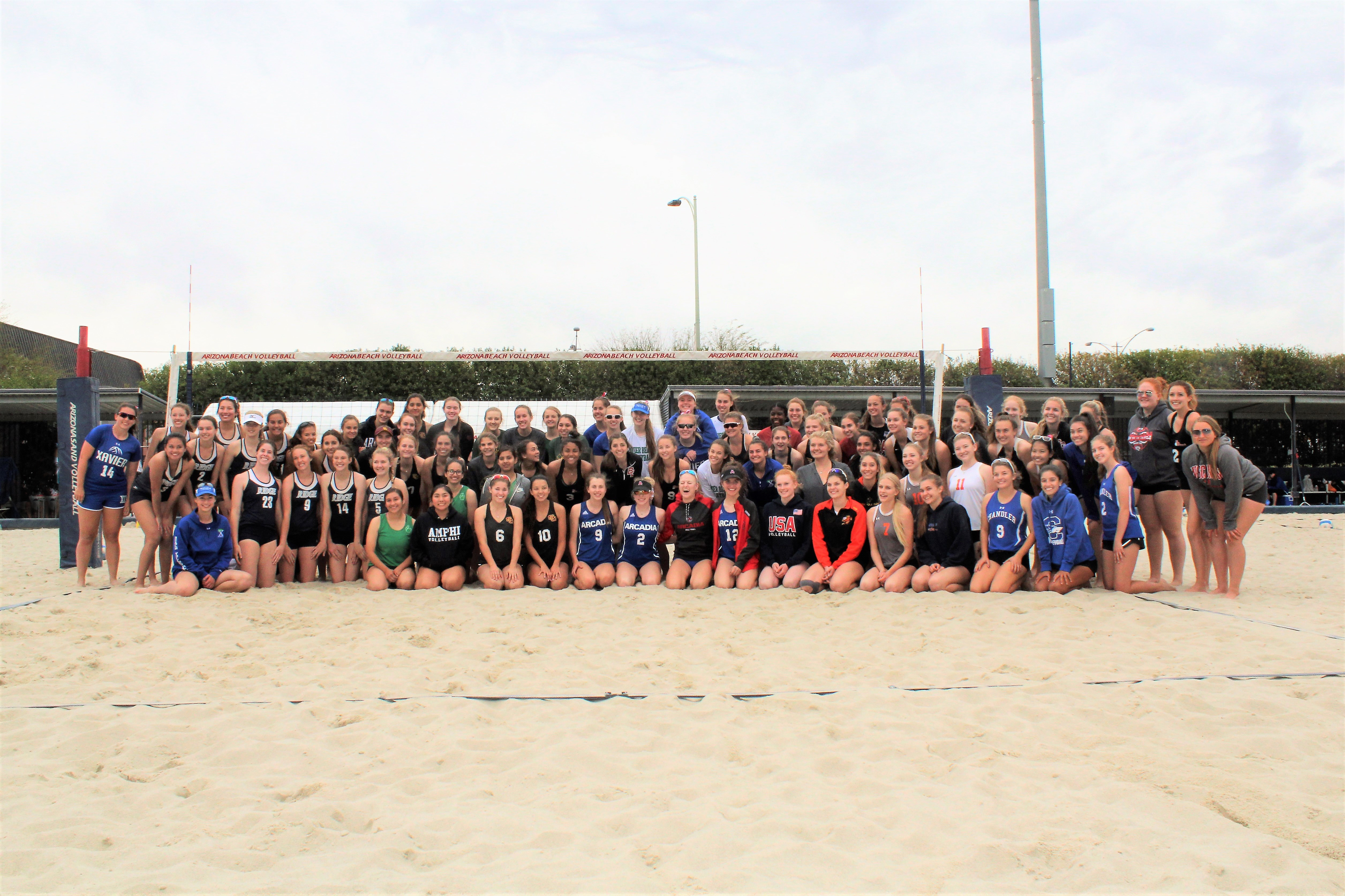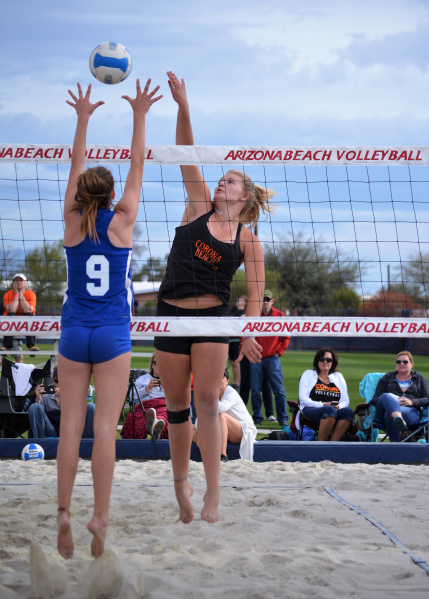 Corona del Sol standout Mady Noble goes up over the block. (Andy Morales/AZPreps365.com)
11 teams took part in the third annual CatBox Beach Volleyball Classic held on Saturday with 40 pairs battling it out in the first sanctioned high school beach volleyball invitational hosted by a Division I program. The University of Arizona and Ironwood Ridge hosted the invitational at "Bear Down Beach," home of the 2017 Pac-12 Beach Championships, along with the Steve Walker Sand Volleyball Camp.
The 40 pairs were divided into 10 pools for pool play and then the top 16 pairs from pool play moved to the Gold Bracket and the next eight competed in the Silver Bracket. Pairs 25-32 competed in the Bronze Bracket and the final eight pairs comprised the Contender Bracket.
The No. 2 Hamilton pair (Noah Miyazumi/Hope Yates) beat Arcadia No. 2 (Gretchen Rea/Gracie Forshey) to claim the Contender title and Salpointe No. 4 pair (Isabella Ali/Clare Wickman) beat Boulder Creek No. 1 (Sydney Zehner/Justine Thompson) to win the Bronze Bracket.
Ironwood Ridge No. 3 (Bailey Erickson/Katie Birtcil) beat Hamilton No. 3 (Claire Mullings/Keely Esteves) to win the Silver Bracket and Corona del Sol No. 1 Mady Noble/Mary Shroll) beat Arcadia No. 1 Rylie Satran/Lexi Sweeny) to claim the Gold title.
Xavier Prep has won every D-I state title since 2012 and the Gators placed five pairs in the Gold Bracket and Ironwood Ridge and Salpointe had three pairs each make it to the Gold Bracket.
The initial AIA seeding rankings for beach volleyball will be released on Monday, March 26. The D-I Team Championships are set to begin on Tuesday, April 24 with Pairs competition scheduled to begin on Monday, May 7.
The D-II Team Championships will begin on Wednesday, April 25 and the Pairs will start on Tuesday, May 8.
More on state qualifying can be found HERE.
FREE PHOTOS OF THE CATBOX INVITATIONAL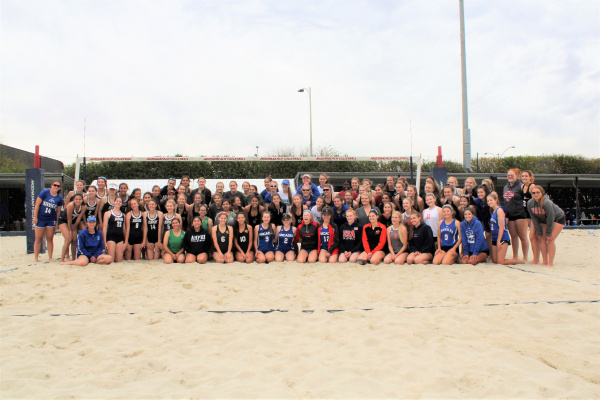 Andy Morales/AZPreps365.com
---