BOYS VOLLEYBALL: Cienega over CDO, 3-1
February 28, 2018 by Andy Morales, AZPreps365
---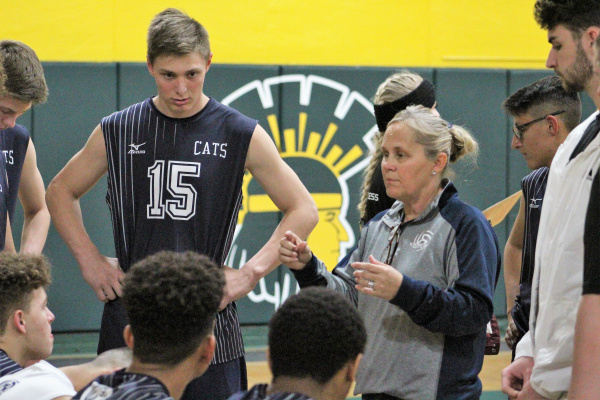 Cienega head coach Heather Mott has a whole new crew this year. (Andy Morales/AZPreps365.com)
Cienega beat Canyon del Oro 3-1 (25-19, 25-17, 15-25, 25-21) Wednesday night in the season opener for the defending state champions.
It's been seven years since the words "defending state champions" could be attached to a boys volleyball team from Southern Arizona but Cienega earned that rare status thanks to a 3-2 win over Horizon Honors in the 5A state championship last spring.
Catalina won a Division II title in 2011 and then nothing. The playoff system moved to one state-wide conference and teams from Southern Arizona found it difficult to compete with the much larger programs in the Phoenix area. Salpointe made it to the quarterfinal round in 2013 but, besides that, no team from Southern Arizona survived the second round until 2016.
D-II (5A) was reestablished in 2016 and Cienega made it to the semifinal round before winning it all in 2017. In doing so, the Bobcats gained entrance into a very exclusive club of team champions from the Tucson area, joining Catalina, Catalina Foothills, Sahuaro and Canyon del Oro.
Cienega lost five seniors from that team including the program's top four kill leaders, three of the top four blockers, three of the top four leaders in digs and the top setter, McLain Mott.
"We are a brand new team," head coach Heather Mott said. "I told them we're not last year's team. We can only ride that for five seconds and then we need to establish ourselves. We have some fantastic tools, but we need to work on consistency."
The teams battled back and forth in the opening set, but the Bobcats closed it out on an 8-3 run for the 25-19 win. The second set proved to be much smoother for Cienega (25-17) but Canyon del Oro made a dramatic turn in the third set, taking it 25-15 behind the play of outside hitter Jack Call.
Call recorded seven of his game-high 20 kills in that set and his ace in the fourth set brought both teams to a 20-20 tie but the Bobcats avoided a fifth set by outscoring the Dorados 5-1 the rest of the way. Call set a single-game kill record of 33 in the team's 3-2 win over Dobson the night before. His older brother, Nick Call, had the previous record of 31.
Jack Call is part of a roster that includes football players, swimmers and golfers. In fact, nine of the volleyball players on the Dorado roster play multiple sports.
"It's very rare these days," said head coach Brian Swingle. "We also have an Eagle Scout, the student body president, two boys state delegates and three golfers with college scholarships."
The Dorados went up against Cienega with backup setter Jake Lovendahl and Lovendahl came through with 41 assists. Preston Flack added nine kills for the Dorados.
"We will get more experienced as a team as the year goes on," Swingle added.
Isaiah Buster led the Bobcats with nine kills and Carson Mott recorded 22 assists. Heather Mott will be taking her squad to the Las Vegas Invitational in March (9-10). Ironwood Ridge, Tucson and Salpointe are also scheduled to attend the Las Vegas Invite. Canyon del Oro is taking part in the TUSD Invitational held at Palo Verde this Friday and Saturday.
TUSD Invitational
March 2-3 at Palo Verde
TEAMS
Canyon del Oro
Sahuaro
Catalina Foothills
Sabino
Flowing Wells
Rincon/UHS
Cholla
American Leadership Academy
Catalina
Pueblo
Palo Verde
Amphitheater
---