D-II Boys Playoffs: Pueblo is back with win over Sahuaro
February 19, 2015 by Andy Morales, AZPreps365
---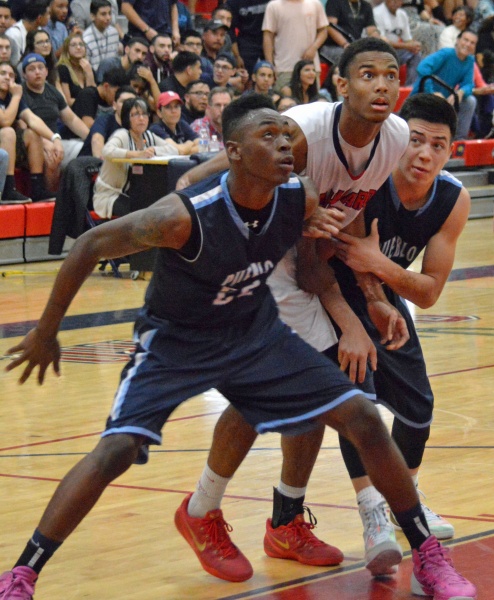 Tucson Pueblo took a 15-1 lead over Tucson Sahuaro Thursday night in the first round of the boy's Division II state playoffs and never really looked back despite a late push by the Cougars.
Sahuaro (23-6) was able to get the deficit more manageable by the end of the third quarter and cut the lead down to 39-31 but the Warriors (17-6) went on another run to win the game 59-44. In doing so, the Pueblo faithful seemed to conjure up heroes from their past.
Pueblo flirted with the postseason during the Michael Perez era five years ago but you'd have to go back a generation to the Lafayette "Fat" Lever days to really capture the true feel of what seems to be happening today and it all began the moment first-year coach Kelvin Eafon stepped on campus.
Eafon played basketball and football at the University of Arizona before starting a career coaching club ball and he saw something worthwhile at the inner-city school. Like Roland LaVetter, Barry O'Rourke and Gary Crane before him, Eafon believed in "those" kids and they believed in him.
"I can't really put this into words," an obviously happy Eafon explained. "This means a lot to people from that part of town. I believed in them and when you give kids a chance and believe in them this is what you get."
What you get is a winning record, a victory in the first round and a shot at No. 4 Gilbert Christian in the second round Saturday night. And, although that game may seem so impossible, so did their victory Thursday night.
Pueblo led by as much as 17 points in the second quarter and went into the locker room up 26-12. Sahuaro had a difficult time shooting from the outside which resulted in quick one-shot possessions while Pueblo was able to hit from the outside.
Four early 3-pointers stretched Sahuaro's defense which helped open up the inside, resulting in several second-chance points.
Jordan Lane scored 14 of his game-high 22 in the third quarter and Sahuaro was able to climb back in the contest and, when Lane hit a 3-pointer with 2:10 left in the game, Pueblo was only up 51-43.
But the comeback was not to be and Pueblo went on a 8-1 run the rest of the way. Pueblo senior Naquwan Solomon led his team with 16 points and junior Onelio Madrid added 12 but it was mostly a team effort with senior captain Aidan Romero controlling the offense.
"This win means a lot to me and my guys," said Romero. "We feel people underestimated us but we get to keep playing and I'm happy I'm playing for Pueblo."
For Sahuaro, the loss ended the high school careers of Lane, Ruben Manzo and Nate Renfro. Manzo scored 11 points to go along with Lane's 22 but the 6-foot-7 Renfro was limited underneath due to the lack of interior play.
Still, the Grand Canyon commit remained positive in the face of late-season roster changes that helped lead to only one victory for Sahuaro over the last five games of the season.
"I enjoyed every minute of my time here," explained Renfro. "I guess we should have just kept playing instead of concentrating on the adversity at the end of the season. We should have focused on playing through it but we didn't and it obviously hurt us but I told myself I would enjoy my days here and I did."
Renfro is one of Grand Canyon head coach Dan Majerle's first big recruits from the state of Arizona. Renfro will take part in training sessions this summer to see whether he will redshirt next fall or play. Either way, Renfro feels he is ready for Majerle's intense coaching style.
Lane was impressive to the many junior college caches in attendance but there was one legendary coach in the audience who was already impressed, former Sahuaro head coach Dick McConnell.
In 42 years of coaching in Kansas and at Sahuaro, McConnell collected a 776-320 record and four state championships. The Sahuaro gym was named after him in 2001 and McConnell still takes in a game now and then. Think John Wooden watching UCLA games or Lute Olson watching Arizona games.
"I remember when we played Pueblo in 1982 and they almost beat us," McConnell said prior to the game. "They were really good back then and they are good now. Sahuaro is also having a great year."
Some of McConnell's former assistants took in the game including current Pima coach Brian Peabody, former Sahuaro and current Pima assistant coach Peter Fajardo and current Sahuaro girl's coach Steve Botkin.
When asked how he felt about Botkin recently reaching the 400-win mark, McConnell displayed his quick wit and said, "That's a good start."
In other D-II action from Southern Arizona, No. 9 Tucson Sunnyside defeated No. 24 Tempe McClintock 68-60; No. 11 Nogales defeated No. 22 Chandler Seton Catholic 70-66; No. 15 Sierra Vista Buena outlasted No. 18 Tucson 57-56 in double overtime and No. 17 Peoria Sunrise Mountain defeated No. 16 Tucson Catalina Foothills 57-52.
Ending their careers were Trevelle Hill, Davonte Eason and Jalen McEaddy from Tucson High and Dakota Kordsiemon of Catalina Foothills.
On a more serious note, Sahuaro twins Brendan and Devan Gary were pulled up from the junior varsity for the playoffs. Their mother is in the final stages of cancer and is in home-hospice. Cathy Gary is not expected to make it through the weekend.
Cathy has battled back and has lived two months longer than her doctors told her she would but it is never enough. Our thoughts and prayers are with the Gray family this weekend.
---