Girl's Soccer: Pusch Ridge wins section championship
January 27, 2015 by Andy Morales, AZPreps365
---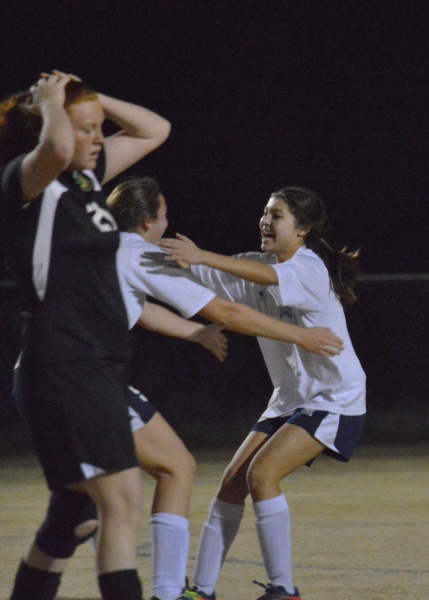 It plays out like a script from a Disney movie. Top-level coach takes over small-school soccer team and team goes on to win section championship in a do-or-die situation and that's what happened when Tucson Pusch Ridge defeated Tucson Tanque Verde 2-1 on Tuesday night.
Amy Garelick has coached at almost every level possible from the Women's Premier Soccer League to youth club with the Tucson Soccer Academy. She has guided some of the biggest names in Southern Arizona but, when Pusch Ridge came calling, Garelick jumped at the opportunity.
"This is why you get into coaching," Garelick said. "To see a young team grow together, knowing you had a part in developing their skills and a small part in watching them become a team."
To be fair, Pusch Ridge is no stranger to the playoffs, having qualified the last two years and losing 1-0 in the championship match in 2011 as the top seed, but this year has a special feel to it.
The team has three girls in the starting rotation who had never even kicked a soccer ball until this year, a few others played recreation leagues and there is only one senior (Sonya Schilling) on the squad. What Garelick called an "opportunity" others would call a recipe for "frustration."
Pusch Ridge entered the final match of the season ranked No. 22 in Division III. With the playoffs only taking the top 16 teams, they had one shot and one shot only but it was a long shot:
The section champion earns an automatic bid to the playoffs.
Tanque Verde traveled to Pusch Ridge Tuesday night ranked No. 12 and undefeated in Section VI. With a section record of 5-0, Tanque Verde just needed to win one more to claim the title. The Hawks were the definite favorites, having already defeated the Lions in a non-section game earlier in the season.
Tanque Verde went up 1-0 in the 16th minute and head coach Kelly Shupe had his team moving towards that section title. Shupe was a former Sahuaro and Pima standout and he credits the success of his squad to the influx of girls who have had club experience.
"We have a lot of young and good soccer players," said Shupe. "We are getting more girls in the program with experience and that helps."
But then came Pusch Ridge freshman Lauren Corral.
Corral tied the match up 1-1 on a breakaway in the 25th minute and then scored again in the 60th to give Pusch Ridge the final 2-1 margin.
"All the hard work paid off and I'd like to thank our Heavenly Father for getting us here," said Corral. "I was really nervous and knew we had to win this but, to be honest, I didn't think we had a chance. I'm just happy we did it."
The playoff brackets will be released at 2 p.m. on Friday, Jan. 30 on the Bracket Show at AZPreps365.com and Pusch Ridge will be listed.
"I told the girls after the first week of practice this might be a long season," said Garelick. "But I found they are very coachable. Every time they leave the field they always ask me how they can improve. They are willing to listen. It's been very rewarding."
Former Canyon del Oro and Miami standout goalie Megan Baker is one of her assistants as is current University of Arizona defender Karina Gabino.
Oh, about that Disney script? Corral was carried off on the field….
---