Derik Hall steals win for Sahuaro on special night
January 22, 2015 by Andy Morales, AZPreps365
---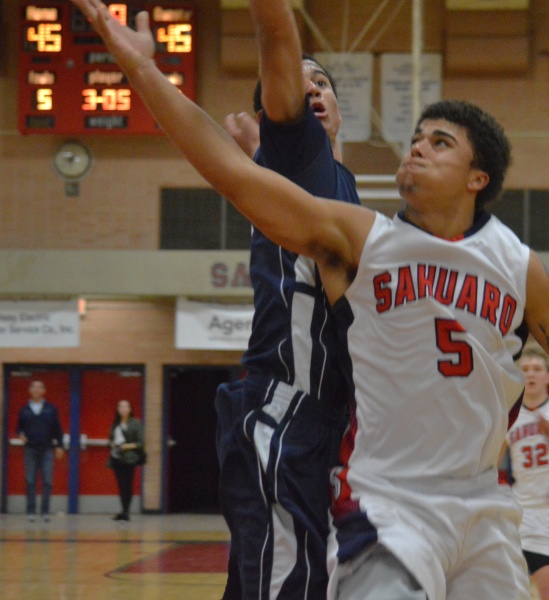 Like many of you who have lost a loved one to cancer, I know firsthand how much of a gift a few moments can mean. I hold those final moments with my own father near to my heart and forever in my memory.
Though we may never fully heal from a loss so close, one of the many benefits of sporting events is the ability to make us forget, if only for a few hours. Sports can also help to educate, bring awareness to the needs of others and, in the case of the basketball game between Vail Cienega and Tucson Sahuaro Thursday night, raise funds to help with treatments.
Cathy Gary has twin boys playing junior varsity at Sahuaro. Devan and Brendan helped set up a "Coaches vs. Cancer" night at Sahuaro with half of the money raised going to help the family cover the expense of treatments that insurance refuses to cover.
Cathy was diagnosed with endocrine carcinoid cancer in August. This form is very rare and treatment options are few with traditional medicine. So rare, she was not supposed to make it past New Year's Day. But Cathy has survived and she told me she is waiting for more news on how her new treatments have been working out.
This bit of hopeful news helps put the actual game itself in proper perspective because, in the end, a bouncing ball is just a bouncing ball. But we celebrate life through sports and the boys of Cienega and Sahuaro did their part to make the night a success.
Cienega led Sahuaro 26-15 at the break with most of the action taking place between two of the top student sections in the state. Then came seniors Nate Renfro and Jordan Lane.
Sahuaro outscored Cienega 24-8 in the third quarter and, by the time Renfro threw down a miss, the Cougars went up 39-34. The Grand Canyon commit only had four points due to a slow recovery from an injury but Lane more than made up for it.
Lane finished with a game-high 18 points and seemed to score at will in the second half. "We noticed the middle was wide open," explained Lane. "We made an effort to take the ball inside and the game started to go our way."
Still, Cienega was not about to go away and the game was tied at 45-45 with 2:30 left. Each side gave up the ball but the Bobcats came up with the ball and held on for the last shot.
At least that was the plan.
Derik Hall is known for his quickness on the football field and he displayed a bit of what caused NAU to offer him a scholarship in the final moments against Cienega. Hall poked the ball away as Cienega was about to make their final move with about five seconds remaining. He raced down the court and scored on a lay up with 2.8 seconds left and was fouled.
Up 47-45, Hall missed the free throw to set up a last shot from Cienega but a 3-point shot fell short and Sahuaro pulled off the win.
Even though Sahuaro beat Cienega, the battle for the Division II/Section II championship and the automatic bid to the state playoffs that goes with it is still up for grabs when the section tournament begins on Feb. 11.
The top four teams will qualify for the section tournament and that's what Cienega standout Terrence Johnson is counting on.
"I'm a little upset," said Johnson. "We took too long at the end but we still have the section tournament so things will work out."
Sunnyside, Nogales, Sahuaro, Cienega and Pueblo have the best shots at the section tournament which means one will be left out. But the state tournament has a field of 24 teams so it is likely the fifth team will get an at-large bid.
NOTE
Lane has 954 career points. He has a shot at getting to the 1,000-point mark heading into the section tournament.
---