Mesquite QB Ty Thompson earns Ed Doherty Award
January 9, 2021 by Andy Morales, AZPreps365
---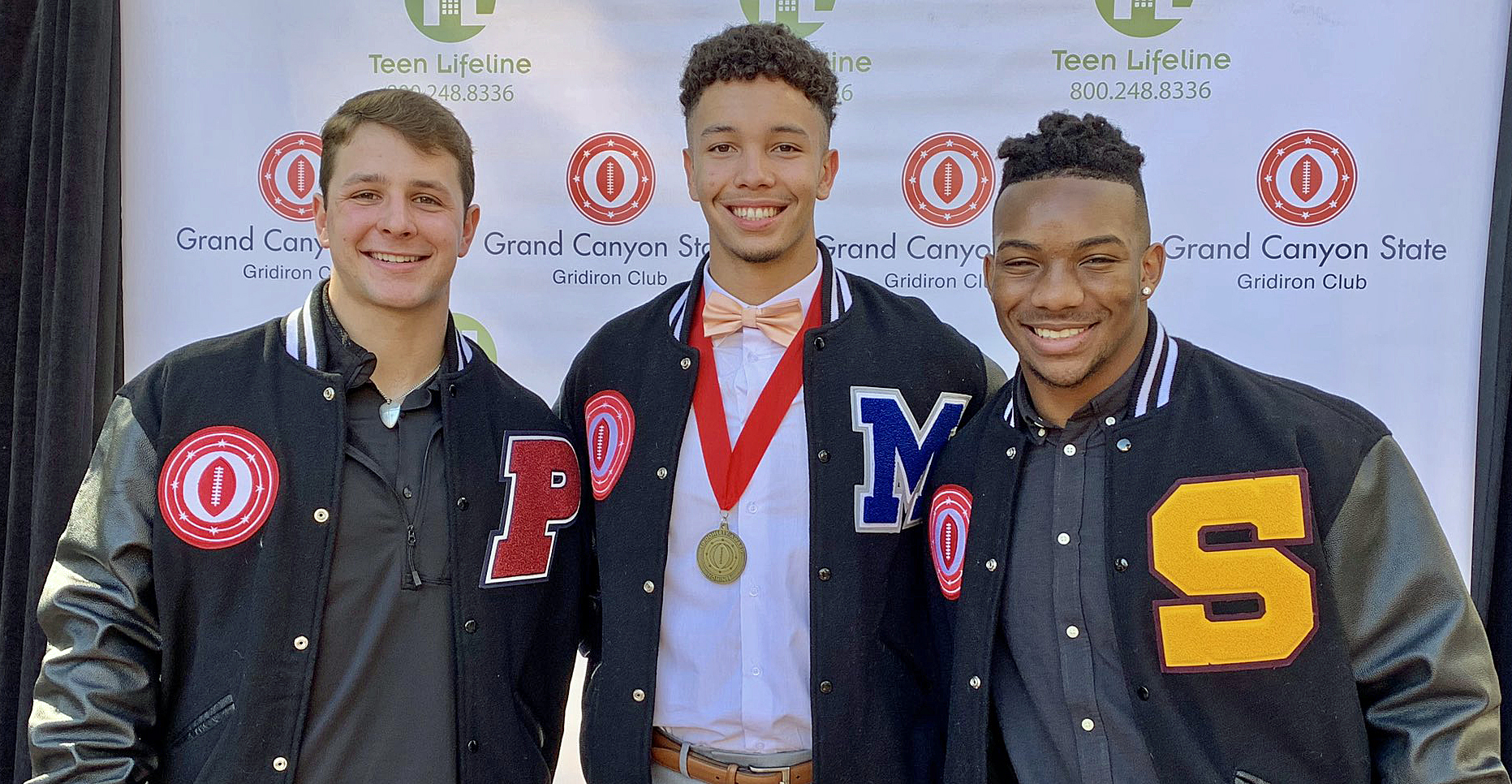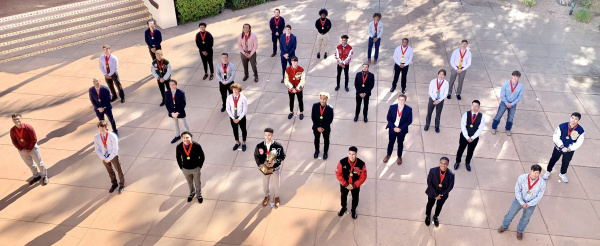 The nominees (Andy Morales/AZPreps365)
The Grand Canyon State Gridiron Club (GCSGC) awarded the 2020 Ed Doherty Award to Gilbert Mesquite standout quarterback Ty Thompson Saturday afternoon at a formal ceremony held in Scottsdale.
The Ed Doherty Award recognizes state's most outstanding high school football player and it has been handed out by the GCSGC since 1987. 53 players from around the state were nominated for the award this year, putting each nominee in a very exclusive level of recognition.
Thompson finished his career at Mesquite with 9,891 passing yards, 100 TD passes while averaging 291 yards a game. Thompson also gained 1,145 yards rushing with 20 more TDs. Additionally, Thompson led the Wildcats to back-to-back state titles and he threw for 3,431 yards, 34 TDs and averaged 381 yards game in his final season. Thompson signed with national power Oregon.
"As impressive as his playing statistics are, Ty is equally impressive off the field. He epitomizes the pursuit of excellence with integrity, great ability combined with diligence and hard work," said Don Kile of the GCSGC. "We are very proud to add his name to the prestigious Ed Doherty Award Trophy and we look forward to being proud of him for a very long time."
Previous recipients Brock Purdy (2017/Perry/Iowa State) and Bijan Robinson (2018/2019/Salpointe/Texas) placed the Winner's Jacket on Thompson at the ceremony.
The members of the GCSGC Ed Doherty Award Selection Committee (myself included) narrowed the impressive list of 53 athletes down to five finalists and then an unannounced secret ballot from that list down to Thompson.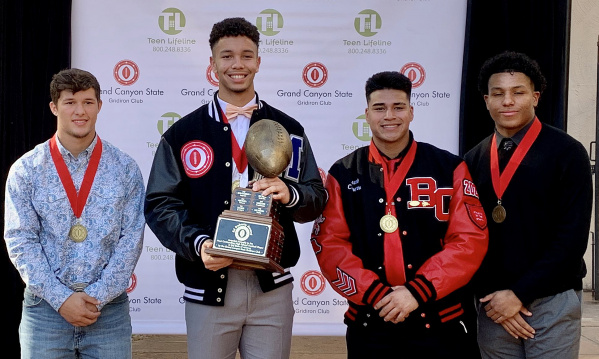 Hunter Ogle, Ty Thomspon, Jacob Cisneros and Eli Sanders. Mikey Keene was not available. (Andy Morales/AZPreps365)
ED DOHERTY FINALISTS
Jacob Cisneros, SR RB: Anthem Boulder Creek
Cisneros completed his high school career with 5,824 all-purpose yards and 56 TDs (34 rush/15 rec/6 ret). During his senior season, he rushed for 1,552 yards, 21 TDs, averaging 155 yds/game; also tallied 666 yds receiving and 10 TDs and added 634 return yards and 6 TDs leading the Jaguars to the top seed seed in the 6A playoffs. Cisneros has signed with Penn.
Mikey Keene, SR QB: Chandler
During his entire football career for the Wolves, Keene never lost a football game, including 23-0 as a varsity starting QB. His senior season was capped by winning a second Open Division championship, and his 2,171 passing yards and 23 TDs were impressive considering many games were well in hand by halftime. A stellar career ends with 5,191 passing yards, 48 TDs and a 71% completion rate. He has signed with the Central Florida.
Hunter Ogle, SR RB: Eloy Santa Cruz
Ogle led Santa Cruz to the 2A state title this season, rushing for 2,096yds, 25 TDs, averaging 10.5 yds per carry and 210 yds/game. He finished his career with 4,656 rushing yards and 53 TDs and contributed 296 tackles and 15 TFLs on defense. He remains uncommitted heading into the February signing date but picked up an offer from ACU.
Eli Sanders, SR RB: Chandler
Patience is a virtue and Sanders exemplifies that as he waited for his turn as the lead back for Chandler in 2020. He broke out this season as a senior with 1,377 rushing yards, 23 TDs while averaging 138 yds/game. As the leader of the Wolves' ground attack, he made the offense one of the most feared in the state and one of the top in the nation as the Wolves captured their second Open Division championship. He has not made a decision for where he will play next season.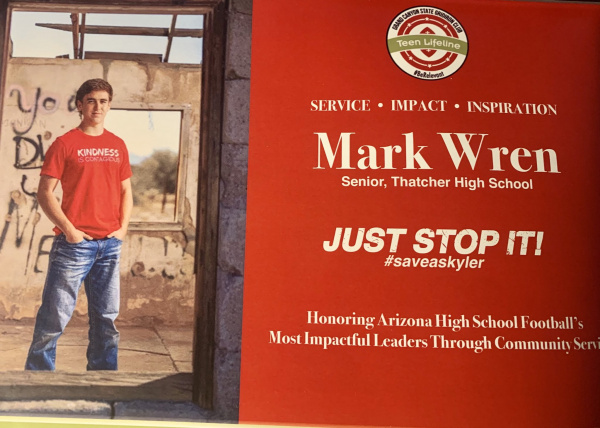 (GCSGC)
2020 IMPACT AWARD
Mark Wren, senior at Thatcher High School, was named the recipient of the 2020 Impact Award, which is presented to honor Arizona high school football's most impactful leader through community service.
"We are extremely pleased to announce the Impact Award will permanently share the spotlight with the Ed Doherty Award during the annual Ed Doherty Award Luncheon," said Kile in a release. "The Impact Award holds a special connection to the fundamental reasons for high school football. The candidates for the Impact Award are each leaders in their communities which is an attribute the GCSGC works hard to promote. It is a natural fit for the GCSGC to include the presentation of this meaningful honor during the annual Ed Doherty Award Luncheon and Mark Wren embodies the very spirit of the Impact Award."
In September of 2016, Wren was a 13-year-old student at Thatcher Middle School running for student body president. This is the same year that he began his work on "Just Stop It," the anti-bullying campaign that would keep him busy for six years, across five states.
Mark and his family knew firsthand the devastating results of bullying. Mark's older brother Skyler had endured relentless ridicule and bullying that all ended tragically on April 15, 1999, when Skyler took his own life at the age of 12.
Last year, Mark visited each of the Thatcher kindergarten and first grade classes to read the book "Leave Me Alone" and he discussed the value of kindness and the importance of working together to stop the bullying… the likes of which resulted in tragic story of his brother's life and untimely death.
Wren was given a standing ovation at the ceremony.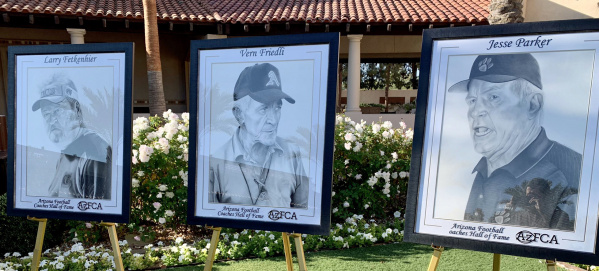 (Andy Morales/AZPreps365)
ARIZONA FOOTBALL COACHES ASSOCIATION HALL OF FAME
Additional recognitions at the Ed Doherty Award Luncheon included inductions of former Arizona high school football coaches Larry Fetkenhier (Cactus), Vern Friedli (Amphitheater) and Jesse Parker (Gilbert) into to the Arizona Football Coaches Association Hall of Fame.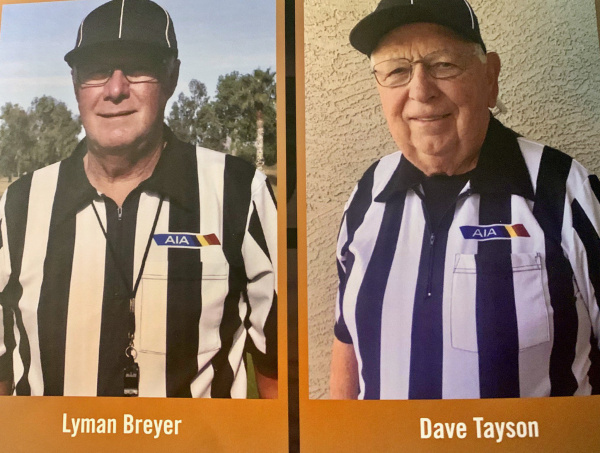 (GCSGC)
ARIZONA FOOTBALL OFFICIALS ASSOCIATION
Dave Tayson and Lyman Breyer were recognized by the Arizona Football Officials Association for logging more than 50 years of officiating service to the game.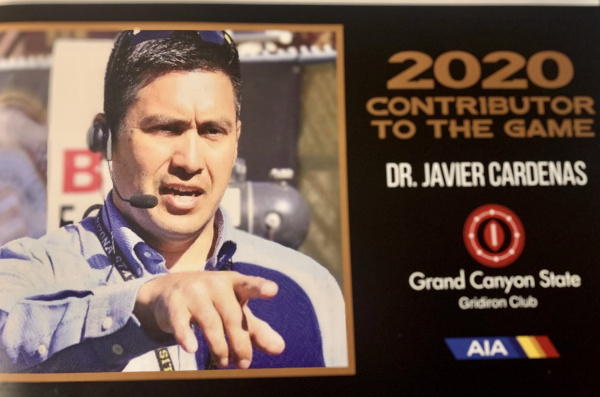 (GCSGC)
CONTRIBUTOR TO THE GAME AWARD
Dr. Javier Cardenas received the prestigious Contributor to the Game Award for his distinctive administrative services to elevate the game.
Portions from a release.
---