Panthers pounce on Prescott
October 17, 2020 by George Werner, AZPreps365
---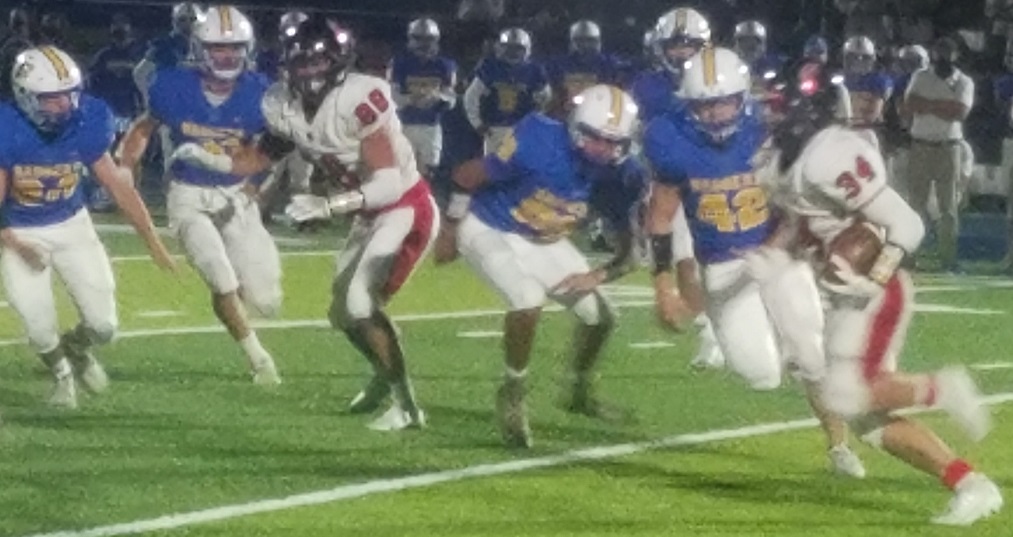 With apologies to Anchorman's far less clever weatherman, Mike Lapsley does not have the option of laying low for a while.
Even though, after what Coconino High School did in its third game of the season in Prescott, the Panthers' head football coach may also be wanted for murder.
His secret weapon Friday, Oct. 16, was senior Manuel Cardoza, who caught two touchdown passes and ran for another score to pace the Panthers to a 41-0 blanking of Prescott High School (0-3).
"The past couple of games, I have been getting open," said Cardoza, who only had one touchdown rushing and one receiving in his entire prior high school career. "But this is is my first time on offense."
Sophomore Cody Leopold had a game-high 12 tackles and gained 70 yards rushing on 28 carries for the Badgers, held scoreless for the first time in 10 seasons, shut out at home for the first time since 2008 and shut out by a regional opponent for the first time since at least 2004, when game results were first tracked and archived online.
As for the Panthers (3-0), Friday's performance was their first road shutout of a regional opponent in that same time frame. It was the program's fifth shutout since 2018, with the wins coming by a combined total of 194 points.
"I don't think our intention was necessarily to come in here and put a beatdown," Lapsley said. "We just want to play our game and become a better version of ourselves than last week."
Intentional or not, the floodgates first opened on Prescott's first play from scrimmage, as the Panthers recovered a Badger fumble on their own 24-yard-line. Two minutes and three carries later, senior Zach Bennett put the Panthers on the board first on a three-yard pitchout.
"We come out, we get a turnover down here, and we capitalize on it," Lapsley said. "That kind of set the stage."
Prescott senior Nathan Wright, however, broke through to record his first of three blocked extra points and keep the Badgers within striking distance.
But a mere minute-and-a-half later, that distance got stretched seven points further after the Panthers' defense forced the Badgers into a short punt to their own 26-yard line. After a 20-yard completion to junior tight end Andy Ruiz, Cardoza found the corner of the end zone from a yard out on only the second rushing touchdown in his career.
"The defense was setting up our offense all night," Lapsley said. "Defensively, I think we were much better than we have been, and it showed."
Senior kicker Jesus Trejo's subsequent extra-point and later 29-yard field goal gave the Panthers a 16-0 lead before the end of the first quarter.
But it would not even be two minutes more before Cardoza, first team all-Grand Canyon Region as a linebacker last season, would begin a demonstration of his big-play abilities on the other side of the ball that would essentially put the game away by halftime.
"When the defense, like tonight, shows how they [will] stack the box and key off me, Manuel Cardoza is definitely another player that can stretch the field," said Bennett, Coconino's workhorse on the ground with 145 yards on 32 carries. "Especially in the passing game, he's dangerous."
Senior quarterback Ryan Seery found Cardoza on a play-action pass in the left flat, and after slipping one would-be tackler, he broke free 67 yards down the Badger sideline to put the Panthers up 22-0 at the 10:24 mark of the second quarter.
"We'll give him different looks in practice, force Seery to go through his progressions," Lapsley explained. "We always force him, in situations in practice, to make sure he's seeing two or three looks. Sometimes, Manuel Cardoza will be open, and sometimes he won't."
Although Wright again blocked Trejo's extra-point attempt, Cardoza was open less than three minutes later. After another play-action fake, Seery dropped back and found Cardoza with a 42-yard bomb in the far corner of the end zone to assert a 28-0 halftime lead.
"We always work on fakes during practice," said Cardoza, whose rushing touchdown was just the second of his career. "Coach [Lapsley] tells us, 'The fakes will help.' Obviously, it helped on the field tonight."
Following a 13-play, 62-yard drive capped at the 3:30 mark of the third quarter by another one-yard plunge by Bennett, the score was 34-0, and the only suspense remaining was if Prescott was going to break the shutout.
On their first possession of the fourth quarter, the Badgers came six yards away from doing that--only to watch senior Jacob Begay pick up their fumble on fourth down and goal and scamper 94 yards in the other direction.
It was that kind of night for the Prescott offense, as two other long, sure touchdown bombs from sophomore quarterback Alex Vaughan were simply dropped.
"My junior year, sophomore year, even as a freshman, they were tough to beat," Bennett said of the Badgers. "We did not expect to come in here and blow them out like that."
Trejo's point-after kick capped an unexpected breather for the Panthers, who had won their first two games by a grand total of eight points to remain one of four undefeated teams in the 4A Conference.
"Every single team wants to be at the top," Cardoza said. "We're not a perfect team, [but] we know what we're capable of.
"With the whole team together and grinding every week in practice, we just always find a way to have so much trust and confidence in one another. It's through the roof."
---