Phoenix Christian vs Bourgade Catholic
October 17, 2020 by Brian Seitz, Arizona State University
---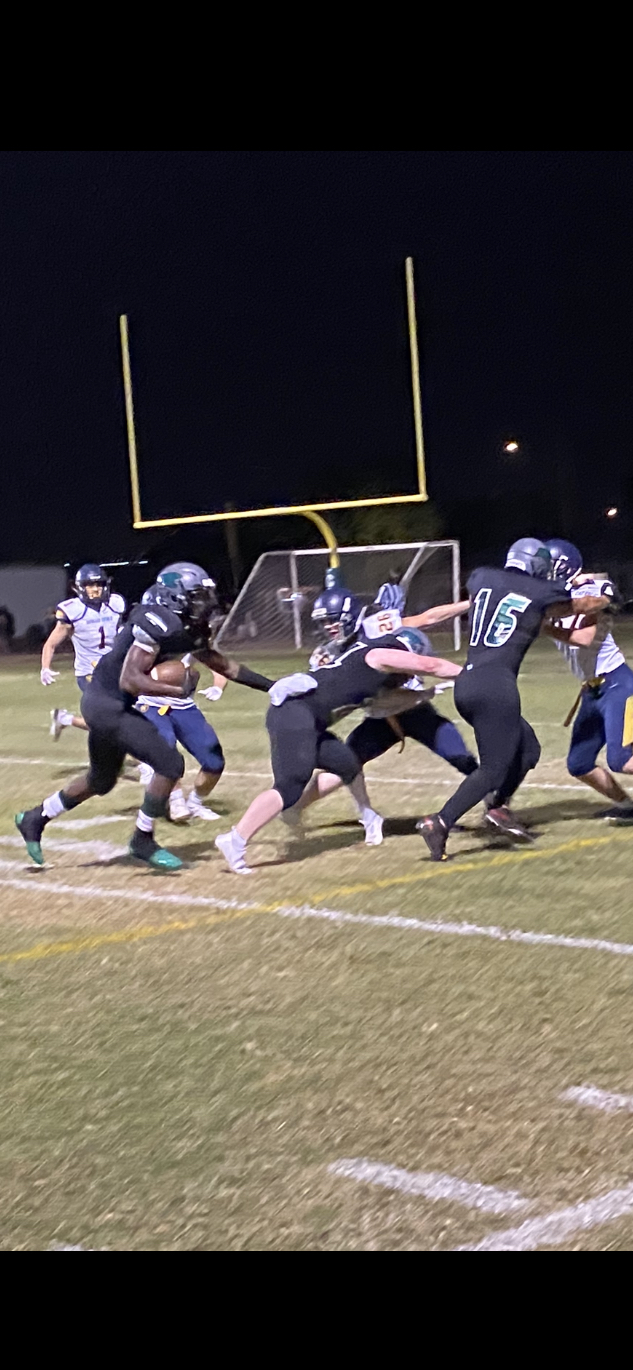 (Phoenix) "I'm trying to win!" Howard Russell emphatically bellows to the universe.
When you're winless with your season on the line, your team needing every ounce of heart you have, what the hell else would you want your best player to say?
"When big games come, players got to make big plays," Russell declares. "Especially a big-time player, had to make big plays."
Russell didn't just talk the talk in Phoenix Christian's blowout win over Bourgade Catholic, but he walked that walk. Russell came into the week with a bad ankle, but even an injury couldn't stop him from taking over the game. The senior phenom finished the game with four rushing touchdowns and two pick-sixes (one was brought back after a penalty during the return), for five total scores.
Fear and angst ran amok throughout the crowd on the second play of the game as Russell limped off the field with an ankle injury. Thankfully, the home team didn't have to wait too long as a collective sigh of relief fell from the stands when Russell came back into the game on the same drive.
The Cougars came into the game needing a win to save their season and keep hopes alive. Whenever a game of this magnitude comes, players and coaches are bound to get a little overzealous. Towing the line of grit and toughness versus losing control was a line the Cougars crossed often.
The Cougars were called for two unsportsman-like penalties including taunting by #61 Anthony Castillo and cursing by Russell. Russell's penalty came after a blown coverage by teammate Angel Guiterrez, resulting in a big gain. The game was 28-14 at the time and Bourgade had just had a big pass play to put the Golden Eagles in the red zone.
Russell, furious at giving up a huge play in a massive game, lost his cool and cost his team a 15-yard penalty. This was the play that spawned Russell's epic winning quote when he shouted it out towards his teammates. Russell was so heated that coach Cole had to call a timeout to regather his team's poise.
Coach Cole had his own struggle trying not to lose his temper. Russell had to restrain coach Cole to prevent him from going after one of the referees after they got into it. Cole was already incensed by comments the back judge made saying Cole needs to get his players on the field faster.
"Show me the rule where you can't put the (kicking) tee wherever he wants if he comes out late," Cole, enraged, yelled at one of the refs.
"There's things that happen in the game that are frustrating, and everybody gets frustrated at times," said Cole afterward. "You just have to keep your cool, because it doesn't help when you get frustrated and start yelling and screaming."
Not everyone on PC had trouble keeping their composure throughout the game. "Let's hope they're okay," said the public-address announcer after running back Zach Cline trucked a BC defender. The announcer was on all night as he kept the mood light and humorous. No one appreciated that more then Athletic Director Dan Fort, who blew his chance at being on SportsCenter.
Early in the first quarter BC quarterback Matthew Espinoza threw the ball away out of bounds. As the spiraling ball went further and further into the sideline, AD Fort had a chance to end up on one of SportsCenter's top ten highlights. Unfortunately for the school's new AD, his 15 minutes of fame slipped right through his hands
"I thought there was a little kid next to me and I told them you need to move your feet (to get out of the way)," Fort explained, "but when I turned around there was no one there."
Lucky for Phoenix Christian, Fort wasn't on the field catching passes from quarterback Adrian Fleming. Tight end Jose Hererra was the number one receiver for this game. He had two touchdowns on two perfect throws by Fleming. The first one was a corner route to the right pylon and was placed just over the fingertips of the defender in a spot only his man could catch it. Hererra laid out parallel to the ground and snatched the ball before it hit the ground to come up with a miraculous touchdown.
Hererra's second touchdown catch came on a similar play where Fleming was able to lob the ball just a millimeter over the defender's fingernail, while Hererra disregarded the big body in front of him, to keep his focus on the ball and scoring again.
One of the main differences in this 49-17 romp and the first two games of the year for the Cougars was their offensive formation. The Cougars went from a spread air-raid offense to the old-school Wing T formation.
"We thought we could catch them off guard a little bit, which we did," Coach Cole reflected on the decision. "We weren't getting it done in the spread, so I felt like a changeup would be good for us and good for the personnel."
"If you can't get a yard on trap in Wing-T," offered Fort before a 4th-and-1 play for the Cougars, "then you shouldn't be running Wing T." The Cougars got more then one yard when they ran the trap in this game, proving to Fort this team can run the Wing T.
PC looked much more comfortable in the Wing T formation, especially Cline who is more of a one-cut, downhill back then a side to side zone runner. This formation is a natural fit for him. As for Russell, it doesn't matter what formation he's in, just get him the ball.
Offense wasn't the only side of the ball on which the Cougars excelled, as they only gave up ten points defensively (BC scored a kickoff return touchdown). The defense got to the Bourgade quarterback, Espinoza, causing constant pressure for the first time this year.
It clearly disrupted Espinoza's rhythm as he threw three picks in the game. One was a perfect pass as it was thrown directly on a tight line, right into the chest of Cougars linebacker Cam'Ryn Hatter, who didn't have to move a muscle to get the pick.
The other interceptionss landed in the arms of Russell, who put on a display of athletic aptitude taking both back to the house.
"I watch film," said Russell. "I watch film and I know what [Espinoza] likes to do, I know where he likes to go. I also know the quarterback stares a lot, so I arranged myself to be in position to make big plays. Film actually helps. It's like having a test and having a study guide. Film is a study guide."
Russell was not wrong as it appeared Espinoza pre-determined where he was going with the ball all night long. It didn't matter what the coverage looked like, if that was his first read the ball was going there.
The Cougars went into the half up 35-17 but the game was far from over. The main fear for PC is the dearth of depth with the smallest roster size in 3A.
"No plays off," preached coach Cole to his team coming out of halftime.
"I'm tired, bro," offensive lineman Stanford Pete told a teammate coming back onto the field for the second half. Yet, it wasn't PC who felt the exhaustion, but it was Bourgade Catholic that looked more fatigued on the field. BC running back Joe Gonzales could be seen hunched over hands on knees, gasping for air in the game.
Phoenix Christian played a great game, but they still have a lot of work to do. This game saw 19 penalties with PC being responsible for twelve of them. Those included ones that brought back a pick-six and negated a huge run to the five-yard line.
Turnovers were also key mistakes the Cougars need to clean up for next week. They fumbled the ball four times and lost two of them. They will need to clean these harmful errors up if they want to continue to turn their season around.
Next week Phoenix Christian is on the road in Surprise to take on the Paradise Honors Panthers who are coming off their first loss of the year in a heartbreaking 22-21 loss to Chino Valley.
---