Coconino's goal-line stand edges Marcos de Niza in OT
October 3, 2020 by George Werner, AZPreps365
---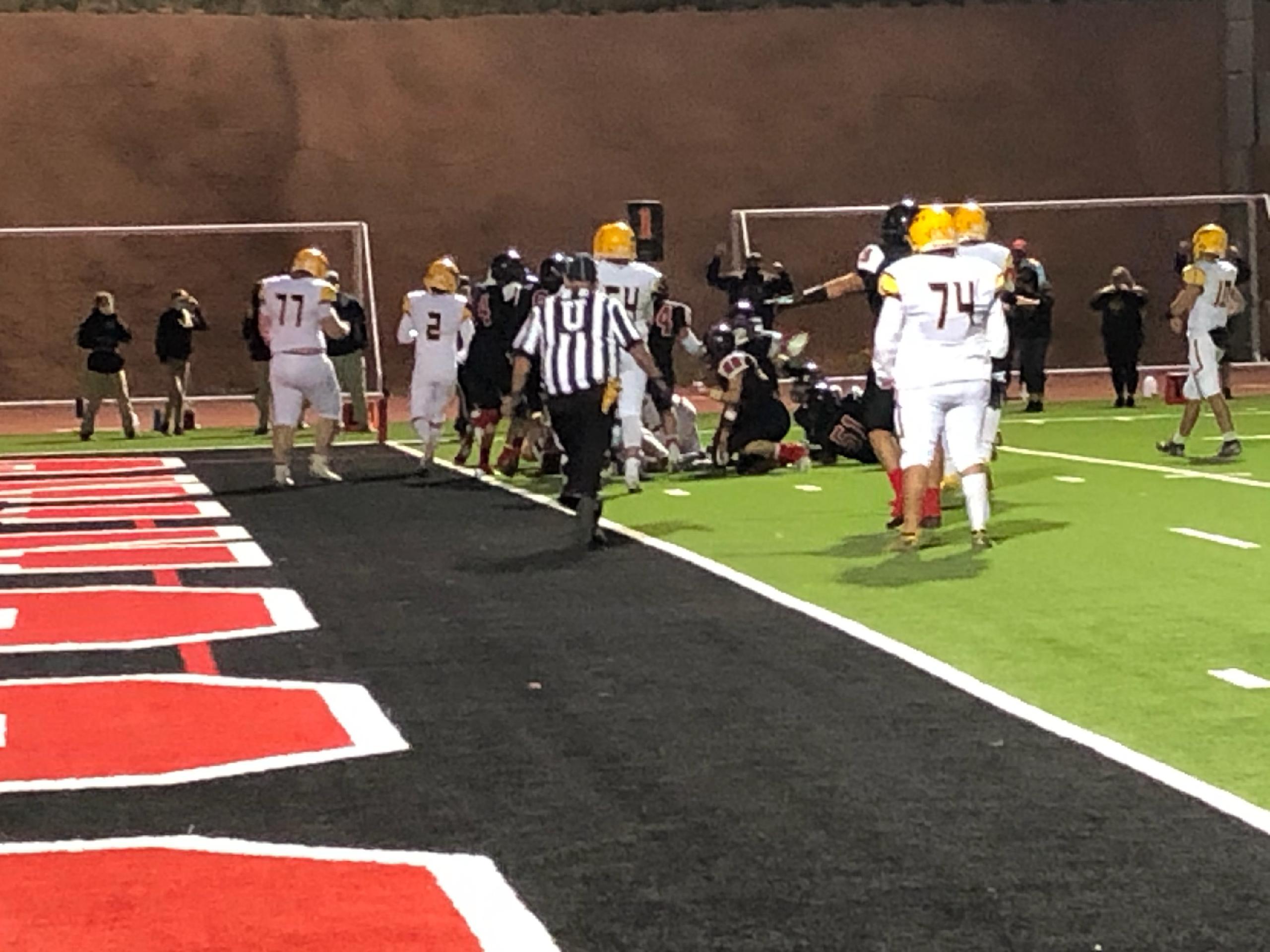 Welcome back, Coconino.
After having to live for nearly 11 months with a one-point home loss to a lower seed in the first round of the 4A Conference state football playoffs, the Panthers and their fans could finally enjoy being on the winning side of that margin Friday, Oct. 2.
It only took three comebacks in regulation and a goal-line stand on a two-point conversion attempt in overtime to put away the bad memories and Marcos de Niza High School, 29-28.
"Toughest win I've ever been a part of as any coach," said an exuberant Panthers head coach Mike Lapsley following several postgame cross-field dashes to embrace players and staff. "And I've been in a lot of tough ones.
"We've overcome so many obstacles as a football program, even in the last week. But we can sleep good tonight."
Senior running back Zach Bennett ground out 119 yards on 21 carries and the ultimate game-winning touchdown in overtime, while his fellow upperclassman behind center, Ryan Seery, passed for 133 yards and two more scores to pace the Panthers in their only non-Grand Canyon Region contest. It was the second game of a doubleheader for the Flagstaff high schools at Cromer Stadium.
"That was a grind for our football team," said Lapsley, who improved to 10-2 as Panthers head coach. "It wasn't easy, but each and every single one of our guys found a way--especially when it mattered most, there at the end."
The way required not only Bennett but his all-region counterpart in the backfield from last season, Manuel Cardoza, who atoned for a first-quarter fumble at the Marcos de Niza 4 by hauling in a 75-yard bomb from Seery to erase a 14-8 halftime deficit.
The way began with senior special teams playmaker Malcolm Morris, who not only broke through to block two extra-point kicks by Marcos de Niza senior Tyrik Jones but returned Jones' kickoff after Calderon's opening score with a 75-yard dash of his own.
"These guys, they're the ones who set the tone," Lapsley said. "We just kept fighting. I'm so proud of these kids. Nobody's tougher.
But the way was ultimately achieved by the entire left side of the Panthers' defensive line, which converged to stop Padres senior running back Jacob Irick a yard short of the win when first-year head coach Anthony Figueroa chose to go for the two-point conversion of Irick's two-yard rush off left tackle.
"At the end, our guys came over and said, 'This is our chance to win the football game,'" Lapsley recalled his defenders telling him during the final Padres time out. "We took advantage of it."
But the loss was just Figueroa's first; for upperclass playmakers like Irick, running back Jayden Calderon, quarterback Anthony Hernandez and wide receiver Daivon Nelson, it was their second straight one-point road defeat. Hernandez threw for two touchdowns and Calderon rushed 27 times for 72 yards and the opening touchdown, a 21-yard run midway through the second quarter.
"They handed the ball off, I don't know how many times, and we had to send 10 guys to the line of scrimmage," Lapsley said. "Hats off to Marcos; they're a physical football team."
"This win really puts a stamp on our confidence moving forward. We know we can hang with anybody now."
Flagstaff 7, Mingus 0
In the opening game of the doubleheader at Coconino High School, senior quarterback Morgan Bewley took it himself for the game's only score early in the third quarter as Flagstaff High School shut out Mingus Union High School in the season opener for both teams.
The Eagles had numerous opportunities but struggled to convert inside the Marauders' 20-yard-line without senior running back Luis Jaramillo, lost indefinitely to a possible concussion midway through the second quarter.
Jaramillo, an all-Grand Canyon Region first-team performer last season, did not return to the game or dress out for the second half following a helmet-to-helmet hit. He had a first-quarter touchdown called back due to a Flagstaff penalty.
The Eagles could not capitalize on any other red zone opportunities the rest of the game against a revitalized Marauders defense under new head coach Doug Provenzano.
---