Golf Watch List: Individual titles are wide open
July 19, 2020 by Andy Morales, AZPreps365
---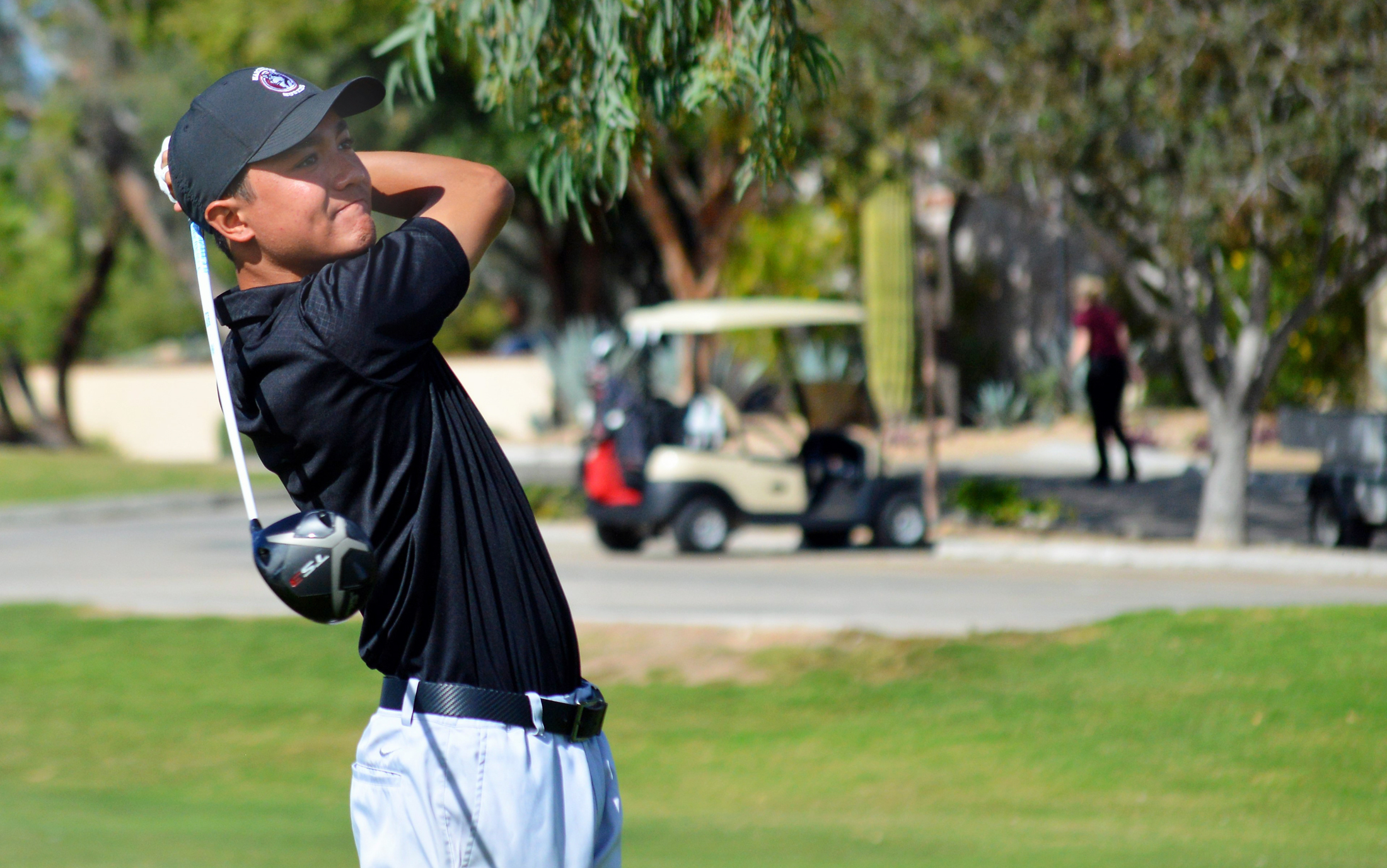 2019 RECAP
The Hamilton boys won the seventh state championship in program history last fall after the Huskies outlasted Brophy Prep 571 to 574 at the Omni Tucson National located just north of Tucson. Hamilton is the early favorite again this fall after losing one senior and returning three of the top eight plyers based on last year's rankings including state individual champion Johnny Walker.
Walker defeated the field by four strokes after a 10-under-par performance on the Catalina Course. Desert Vista standout Scott Schlader (Marquette) and Sunrise Mountain standout Ben Lorenz (Oklahoma) tied for second place and both graduated.
The Higley Knights won the boys D-II championship, the first in program history, with a 612 to 617 victory over Cactus Shadows. The Knights lost two seniors to graduation including Damon Vilkaukas. The D-II team title is wide open.
Arcadia standout Gavin Aurilia won the D-II individual title with a 6-under 140 on the Catalina Course but he will have a whole slate of challengers with only five of the top 20 finishers from last year graduation.
The Pinnacle girls dethroned Xavier in D-I action after the Pioneers pulled of a 562 to 578 win over the 37-time state champions. That was only the fourth loss for Xavier since 1979. Xavier loses Ashley Menne (ASU) and Breyana Matthews (ASU) but the Gators return two of the top ten players in the state but Pinnacle returns four of the top ten. Look for another battle at state.
Hamilton standout Joy Callinan stunned the golf world with a 7-under 135 to beat Menne by one stroke on the Sonoran Course. Menne was going for her fourth state championship in a row. Callinan is competing for North Dakota which leaves the top spot open.
Maya Benita won the D-II state championship for Catalina Foothills on a 7-under 135 on the Sonoran Course over Madeleine Laux of Millennium (137). Benita is playing for Arizona and Laux for UNLV.
The Ironwood Ridge girls won the first team title in program history after beating Cactus Shadows 592 to 597. The top four returning players are from these two programs.
LINK: Golf Championship to remain at Omni Tucson National
DIVISION I GIRLS
Katie Stinchcomb, Pinnacle Sr.
Ivy Song, Xavier Jr.
Malia Uyeshiro, Perry Sr.
Carolyn Fuller, Pinnacle So.
Leighton Shosted, Mesa Mountain View Sr.
Sydney Seigel, Pinnacle Sr.
Mattison Frick, Liberty Jr.
Kailani Deedon, Red Mountain So.
Mary Beth Doss, Xavier Sr.
Kyla Wilde, Pinnacle Sr.
Sydney Bryan, Red Mountain Sr.
Kendall Hayward, Highland Jr.
Presley Pickron, Highland Sr.
Grace Summerhays, Chaparral Jr.
Marsa Waite, Hamilton Sr.
Brooke McGlasson, Liberty So.
Abby Campbell, Red Mountain Sr.
Caroline Formisano, Corona del Sol Sr.
Julie Huggins, Boulder Creek Sr.
Angelica Martinez, Tucson Sr.
Jennifer Seo, Hamilton So.
Annie Dawson, Xavier So.
Siya Khemka, Hamilton Sr.
Ciana Reynoso, Chandler Sr.
DIVISION I BOYS
Max Lyons, Sandra Day O'Connor Sr.
Johnny Walker, Hamilton Sr.
Mahanth Chirravuri, Hamilton Jr.
Carter Lolli, Desert Vista Jr.
Daniel Henely, Cienega Sr.
Joseph Lloyd, Pinnacle Sr.
Cameron Kaiser, Brophy Sr.
Anawin Pikulthong, Hamilton So.
Gordon Lu, Sandra Day O'Connor Jr.
Riley Wortman, Queen Creek So.
Alan Quezada, Trevor G. Browne Sr.
Aiden Sanders, Pinnacle Sr.
Noah Nuez, Brophy Sr.
Preston Summerhays, Chaparral Sr.
Bryan Beyer, Desert Ridge Jr.
Kyle Wandel, Horizon Jr.
Zachary Frye, Verrado Sr.
Dallin Delgado, Highland So.
Alex Vekich, Desert Mountain Sr.
George Rubelsky, Brophy Jr.
Trevor Grenier, Highland Sr.
Gavin Lepinski, Shadow Ridge Sr.
Evan Averyt, Liberty Jr.
Diego Guerrero, Cienega Sr.
DIVISION II GIRLS
Kylee Loewe, Cactus Shadows Sr.
Calynne Rosholt, Cactus Shadows Sr.
Zoe Newell, Ironwood Ridge So.
Raina Ports, Ironwood Ridge Jr.
Mackenzie McRee, Salpointe Jr.
Makenzie Cooper, Canyon View Jr.
Bailee Tayles, Notre Dame Sr.
Raya Schulz, Millennium Jr.
Makenna Cabardo, Horizon Sr.
Libby Axen, Catalina Foothills Sr.
Hannah Ports, Ironwood Ridge Jr.
Shanna Schuckman, Cactus Shadows Sr.
Sierra Ashbaugh, Casteel So.
Susie Gietl, Salpointe Jr.
Kylee Gerber, Gila Ridge Sr.
Chloe Tarkany, Cactus Shadows Jr.
Aubrey Waters, Horizon Sr.
Madison O'Sullivan, Cactus Shadows Sr.
Isabelle Junio, Millennium So.
Maddie Greene, Rincon University Sr.
Mia Cesarek, Catalina Foothills So.
Abi Morris, Canyon View Jr.
Celia Schrecker, Ironwood Ridge Jr.
Madison Thompson, Horizon Sr.
DIVISION II BOYS
Rylan Johnson, Williams Field Jr.
Gavin Aurilia, Arcadia Sr.
Cade Anderson, Notre Dame Sr.
Daniel Thompson, Thunderbird Sr.
Gabriel Escalera, Walden Grove Sr.
Rio Newcombe, Casteel Sr.
Jacob Tarkany, Cactus Shadows Sr.
Wyatt Chapman, Casteel So.
Colton Horn, Higley Sr.
Brady Wilson, Higley Sr.
Carlos Astiazaran, Salpointe So.
Ethan Klose, Arcadia Sr.
Colby Gramhill, Notre Dame Sr.
Nik Kittilson, Seton Catholic Jr.
RayJ Ramirez, Sabino Sr.
Devon Chela Sanders, Youngker Jr.
Garrett Mercer, Coconino So.
Nicklas Nuez, Saint Mary's So.
Matt Herberger, Mesquite Sr.
Max Krueger, Salpointe Sr.
Albert Quihuis, Salpointe Sr.
Aadith Mosur, Higley Sr.
Zander Los, Ironwood Ridge Jr.
Coleden Mercer, Coconino Jr.
---