Q&A with Executive Director David Hines
April 3, 2020 by Seth Polansky, AZPreps365
---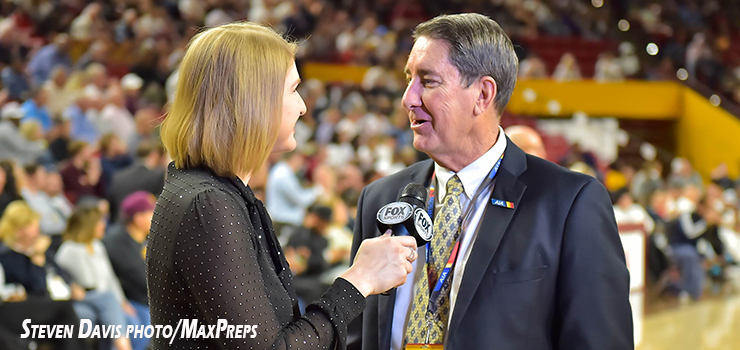 The state's decision to cancel all on-campus learning in Arizona's schools for the rest of the semester created a scenario where all AIA sports and activities had to cease. AIA Executive Director David Hines reflects on this time, gives association updates and has some advice for student-athletes.
What was your initial reaction when you learned that the governor and state superintendent had decided to cancel on-campus learning for the rest of the semester, thereby cancelling all spring sports?
The first thing that came to mind was frustration. We wanted to try and hold off as long as we could. If we had a chance to have some semblance of an end-of-season, we wanted that opportunity. But when the governor made the decision, and because all of our member schools are part of the Arizona education system, we knew that our season would be over.
What plans were already in place from the first suspension of school activities to now? What has the AIA had to do more recently in reaction to the final decision?
As soon as the governor put the first two-week closure in, our tournament staff grouped up and worked on opportunities that we could modify the schedule to be able to play a postseason tournament. And that included the possibility of expanding the number of teams into that tournament so the kids would get an opportunity to play. When the suspension was pushed to the second two weeks we still had a plan to work with the conferences to create some semblance of games and then to end with a culminating event. And we knew that if the governor closed the schools for the year there wouldn't be an opportunity for a postseason.
What is the plan to proceed from here?
The AIA is still in business and we are preparing for next fall. Schedules for the fall are being finalized and entered into the system. We are also conducting meetings on Zoom for the winter sports with the 1A, 2A and 3A conferences next week. And then we will set up meetings with the 4A, 5A and 6A leadership. As a staff we are already closing out the winter sports. We are doing this a little bit earlier in the year than we would typically do it.
Has the timeline for the fall semester been shifted at all?
At this point the fall timeline has not been shifted. We pay attention to what the health officials and the governor is putting into place. Everything is an unknown, but we have to be flexible and be able play it by ear as things get better or things are put into place. We're hoping that at a point in the not too distant future we get back to some normalcy and be able to continue with what we normally do.
If schools open up for the summer, could there be some allowances during that time?
Summer is a period of time where a lot of our kids play club sports or city leagues. Going to camps, going to clinics. There are a lot of things that go on during the summer, including 7-on-7 tournaments and summer tournaments that schools compete in. The summer gives kids an opportunity to get back into a competitive mode. I don't see any competition being run through the association.
What are some suggestions for student-athletes to stay in shape during this extended period off?
Workouts and lifting that you can do on your own during this time. If you have access to hit some balls off a tee. Be able to run some hills. Lift either with your own equipment or to be creative. Back when we didn't have weights, we would have gotten a hold of something with resistance and continue to stay in shape. Running is also something we would do. The kids should also mentally be able to take a break. One of the advantages of not having all this competition or workouts is sometimes it's a chance to heal as an athlete in all aspects.
Are there any resources out there right now schools can use to better their situations?
Schools are really proactive in doing virtual education, featuring lessons from their teachers that are keeping the kids' minds sharp. The resources that they have obviously are preparing the kids well that are continuing with high school next year. Even though their school year is over, they continue to learn. Continue to pay attention to do the things you had been doing throughout the year. Continue to keep your mind fresh.
What is your message to the graduating seniors who may not get a shot at the next level athletically?
I'm frustrated for the senior class members that were not able to finish. For the kids who are looking to go on and play at the next level, continue to do the things you can do. This is educational athletics. Sometimes life throws us curveballs. We all have to monitor these things in life and adjust. There will be challenges every day now and for the rest of your life, whether you are going to college or going to work. What's really important is that we can step back, look at the situation, focus on what we need to do moving forward, and become a better person. Look at the things that you can contribute to in a positive manner.
---