Gonzalez pursuing pro soccer after high school
March 4, 2020 by Ethan Greni, Arizona State University
---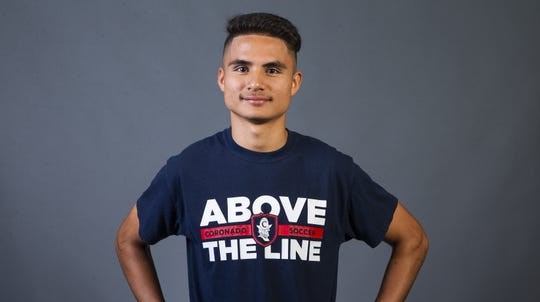 Ethan Greni is an ASU Cronkite School of Journalism student assigned to cover Coronado High School for AZPreps365.com
Gabriel Gonzalez doesn't dwell too much on a past that denied him a shot at a third state title. The Coronado senior is looking forward to a bright future, one he hopes leads to professional soccer one day.
"I want to go pro," Gonzalez said. "I want to go to tryouts in Mexico, look for opportunities to make it."
Coach Nick Barker believes Gonzalez has what it takes.
"Gabe is an exceptional young man, he's a shooting star," Barker said. "Whatever opportunity is put in front of him… I really think the sky is the limit for him."
Barker said Gonzalez is the most well-rounded player the program has ever had.
"And that's saying a lot, we've had a lot of good [players]," Barker said.
Barker's high praise is warranted. Last year, Gonzalez was named the 3A Conference Player of the Year, and a finalist for AZCentral's Player of the Year.
"I was happy about it, not every player experiences that," Gonzalez said. "I worked hard for it, so I felt like I deserved it."
There's a fine line between confidence and arrogance, but make no mistake. Gonzalez is humble, crediting his family for his success.
"They've always supported me since I was young," Gonzalez said. "They gave me a roof to live under, food, money, so the best way to pay them back is to give it all I got right now."
Gonzalez missed this year's playoffs with a broken foot. He believes if he was healthy, the season would've ended differently.
"It really sucked," Gonzalez said. "I feel we probably would've made it further, if not won it again."
Barker knew Gonzalez was already special from the first time they met.
"I don't know how much credit I can take for any of his development," Barker said. "He has a passion and a conviction about everything he does… those are attributes and intangibles that I really just admire in him."
His teammate, senior Yohan Palafox, can't wait to see what the future holds for Gonzalez.
"I have 100 percent faith in him, I know he'll make it," Palafox said. "He works hard, he's one of the best players I've seen."
While soccer is obviously a big part of his plans, Gonzalez also has other goals in life.
"I want to be stable, I want to [help] my family [get] out from where they're at," Gonzalez said. "If pro soccer doesn't work, I'd like to continue through college and start a career in architecture."
But no matter what happens, one thing is certain. He'll always be a Don.
"Of course," Gonzalez said. "We've been through it all, it wouldn't hurt to come back and have something to return to."
---