Brophy repeats as 6A champ
February 27, 2020 by Jose Garcia, AZPreps365
---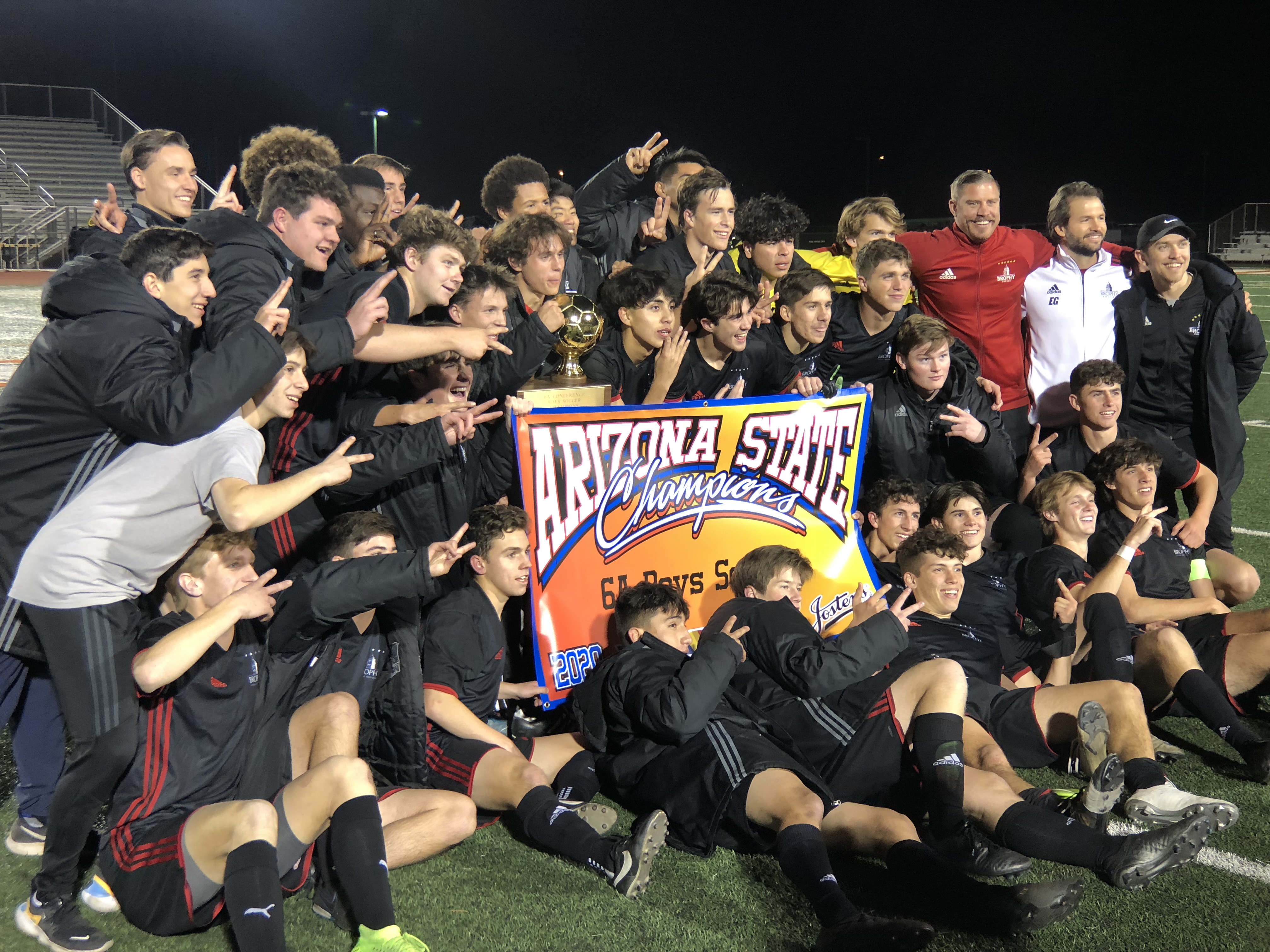 Keeping Brophy down in an Arizona match for 80 minutes was darn close to impossible this season.
Chaparral tried. Twice.
Their first encounter ended in a 1-1 regular season stalemate, and on Wednesday, No. 1 seed Brophy trailed No. 2 Chaparral 1-0 at halftime in the 6A state championship match.
But Brophy was blessed with an abundance of speed and skill this season.
The boys put those tools to good use in the second half to hammer in two goals and repeat as soccer champs with a 2-1 win at Campo Verde High. Brophy (22-2-1) won its 7th overall crown in the process and stretched its unbeaten streak against Arizona teams to 25 matches.
Brophy, which outscored teams 73-15 this season, failed to score in a match only once this season. That came during a loss to Calif. St. John Bosco.
After its only other loss, a 2-1 defeat to Torrey Pines of San Diego, Brophy vowed to find ways to keep scoring even when it was down, captain Logan Abele said after the 6A title match.
They did just that.
Abele's team made only one tactical shift after halftime, moving defender Connor Leber, a captain, up, which helped their team attack more down the lines. Brophy tends to burn teams by using its speed to open up space for its wingers to maneuver.
That's exactly what happened in its first goal when Case Montanile sprinted down the left side before releasing a cross that led to the goal Abele got credit for. The ball first deflected off a boot of Abele and then bounced off a Chaparral player before going in.
"It was a moment of shock honestly," Abele said. "I was like I didn't even know if it went in."
Paul Allen, Brophy's coach, praised the play of his boys, including Montanile.
"Guys like Case Montanile don't come by very often," Allen said. "With or without the ball, he's the most skilled individual I've coached."
Abele assisted on the second goal, when his corner found the charging Anthony Hidalgo.
"Most of my goals come off of headers and I knew I wanted to get one tonight," Hidalgo said. "Most of the time I was just staying inside the 18, and I wasn't getting any momentum to go forward and get any power behind my shots. But this time I just stayed back about 20 yards or so and came crashing forward. The ball then deflected off someone and went in. Their goalkeeper (Cole Johnson) has been amazing the whole season. He just couldn't get that one."
Chaparral's centerback, Andy Bebbington, also played a heck of a match while trying to help his program, which finished 14-3-1 this season, win its first outright title.
But Brophy applied constant pressure, and as it kept moving forward, players such as midfielder Eduardo Serrano made sure he had his forwards' backs.
"It says we have a lot of grit and determination to get back in the game," Serrano said. "And that goes for all of the guys."
---