Early second half goals propel Gilbert Christian, Veritas Prep to titles
February 22, 2020 by Jose Garcia, AZPreps365
---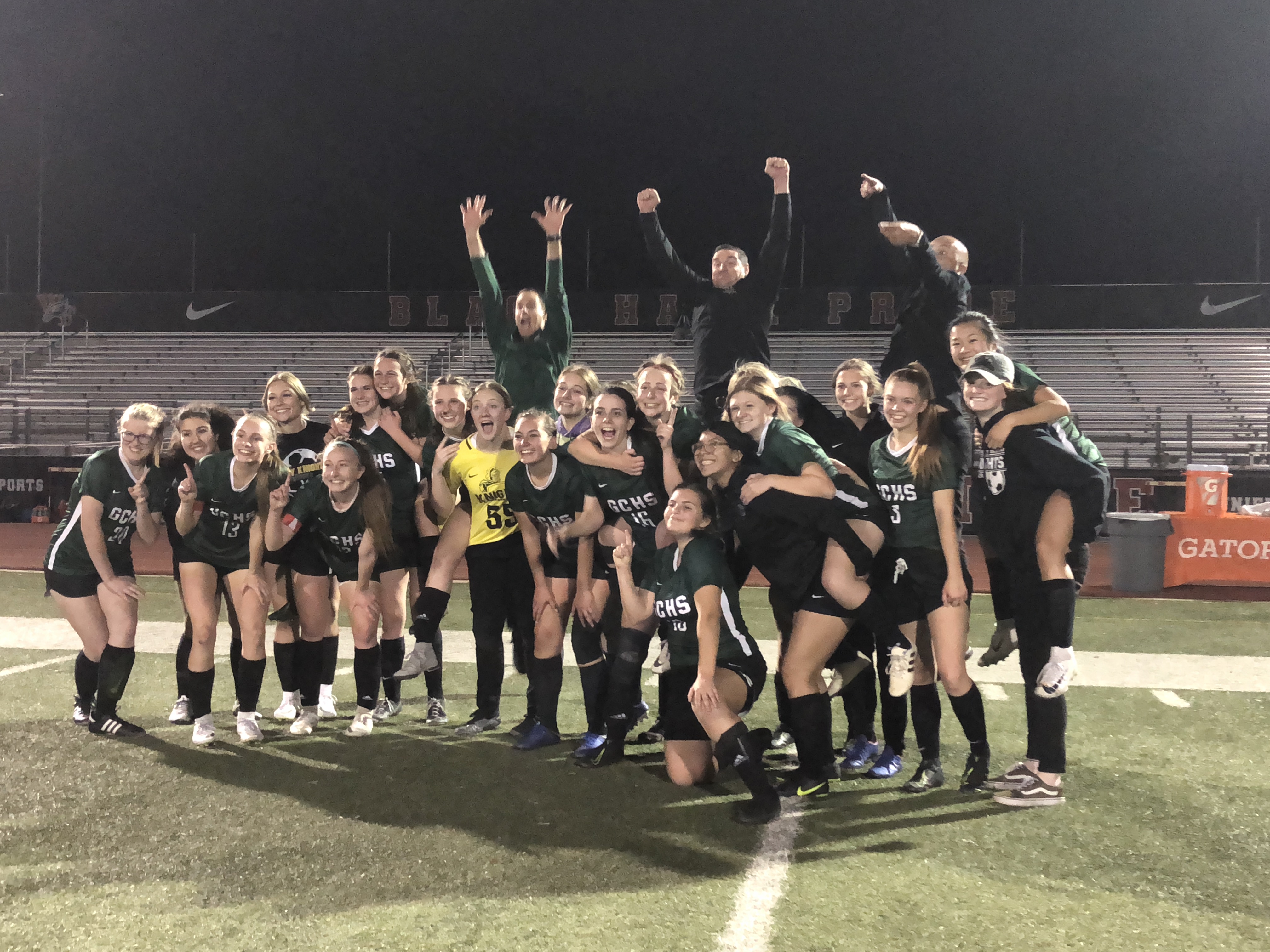 Gilbert Christian went from nothing to becoming a champion within five seasons.
It started when 14-year NFL veteran now soccer coach Jay Feely knocked on Gilbert Christian's door. For Veritas Prep, it started when forward Jason Nunez, starter Marshall Briggs and goalkeeper Ben Power met in sixth grade and formed a bond with each other and their future high school coach, Richard Cardenas.
Veritas Prep and Gilbert Christian's journeys culminated with lifting trophies Friday in the 3A Conference soccer title games at Williams Field High School.
Gilbert Christian didn't have a girls soccer program five years ago when Feely inquired about the possibility of starting one when his daughter Lexi enrolled at the school. The school's administrators asked Feely if he was interested in becoming the coach.
5 years ago my dad started the girls soccer program at my HS so that I would have a team to play on. After 2 losses in the quarter finals and a semi final loss...he FINALLY DID IT!TONIGHT THEY ARE STATE CHAMPS!
So proud of you dad!
A little jealous it was a year after i left ;) pic.twitter.com/WRTlTvxR42

— lexi feely (@lexifeely) February 22, 2020
Feely built a program that made school history when it won its first crown in its first championship appearance after defeating a worthy championship opponent, Sahuarita, 1-0 Friday.
"I'm so happy for the girls," Feely said. "Not just the girls on this team but also the girls we started this program with five years ago. I told those girls, 'You are building something that somebody else is going to benefit from.'"
Getting to the top wasn't easy.
Gilbert Christian (18-1) had to learn how to win in the regular season and in the postseason. And against Sahuarita, a young and talented team that is just getting started, Gilbert Christian was doing some chasing in the first half of their match.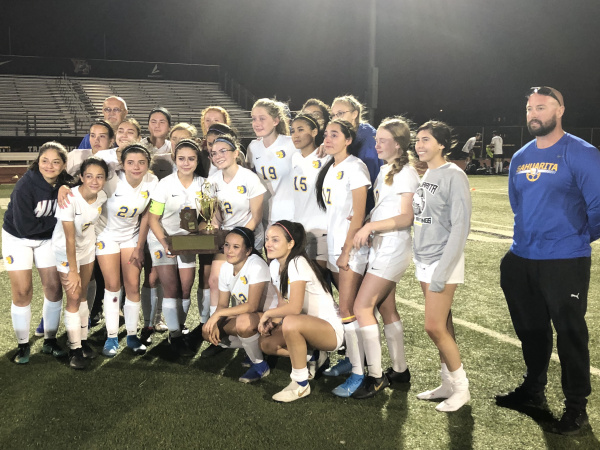 Sahuarita
But the match evened out after the first and only goal. It was clear in the first half that seniors Hannah Burke and Landyn Lovelady were the players Sahuarita had to monitor.
Sahuarita outshot Gilbert Christian 9-2 in the first half, but each team had one great chance to score. Gilbert Christian goalkeeper Emma Borgman (nine saves) saved one of those attempts with 70 seconds left in the first half.
"You're a beast," Feely told Borgman after the match while they were celebrating.
Gilbert Christian's best first half opportunity came when Lovelady made a 50-yard run with the ball, zooming by a couple of defenders before rifling a low shot that was saved in the 35th minute. Sahuarita didn't stop Lovelady the next time, though.
The senior forward earned her team a corner kick after another explosive run on the right side.
The corner kick went near the goalmouth, and Lovelady took care of the rest after the ball pinballed off a couple of players.
"It was amazing. I was ecstatic," Lovelady said. "I could not have ever thought that it was going to be my goal right there. You trust your God, and when you've been playing soccer for a while you seize those opportunities and you take them."
Lovelady has been pulling double duty, playing with the soccer team and Gilbert Christian's basketball team this winter season.
"She hardly ever practiced in the last two weeks, and she was dominant," Feely said.
Unofficially, Sahuarita outshot Gilbert Christian 16-4, but the scoreboard is what mattered the most.
"The thing I'm most proud of is our girls love each other," Feely said. "We have no drama. They are there for each other. They are completely unselfish. That's what makes it a joy to coach."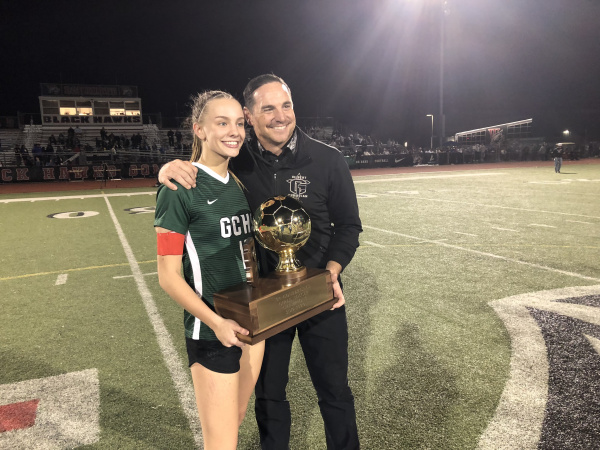 Jay Feely and Landyn Lovelady
The match with Veritas Prep's boys and Yuma Catholic turned into a track meet.
It was an entertaining game with talent that could match up against even some of the best 4A team. But Veritas Prep crossed the finish line first with a 2-0 victory.
It was the first soccer title for the Phoenix school, and it defeated a Yuma Catholice program that, despite being seeded 14th, has seven titles to its name. Cardenas was aware of Yuma Catholic's speed and held his players back at first.
"We knew we would wear them down, and that's what we've done all year to a lot of teams," Cardenas said. "So that's when we start pressing. At halftime we felt we could start doing that."
Veritas Prep (17-3) quickly got on the board in the second half after a scoreless first half.
One of the weapons in the team's arsenal is a launcher, Brody Richter. His rainbow throw ins always seemed to reach Yuma Catholic's goalkeeper.
His team scored its first goal after one of his lobs near the start of the second half. Nunez eventually used a shoulder to knock it in with a crowd around him.
Nunez also scored the second goal after receiving a long pass with two defenders on him. He didn't take the shot until he was certain it was going in with 4:22 remaining.
One of Yuma Catholic's speedsters, Edgar Gutierrez, had a great look in the second half after getting open on the right. But his attempt went just wide of the far pole.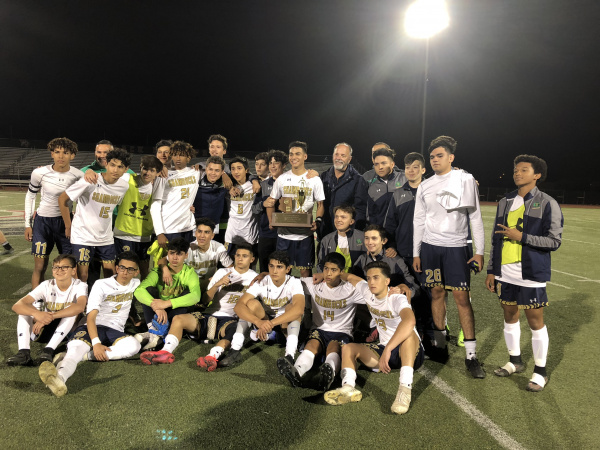 Yuma Catholic
Veritas Prep's Filippo Lapiana also stood out during the match and put on a show at times with his dribbling skills. In the end, both teams deserved to take a bow.
"I couldn't be more proud," Cardenas said. "It's just a great bunch of kids. I've known them for so long. The families are so supportive. It's just the best situation ever."
Veritas Prep
---