Coronado loses 3A semifinals to Veritas Prep
February 19, 2020 by Ethan Greni, Arizona State University
---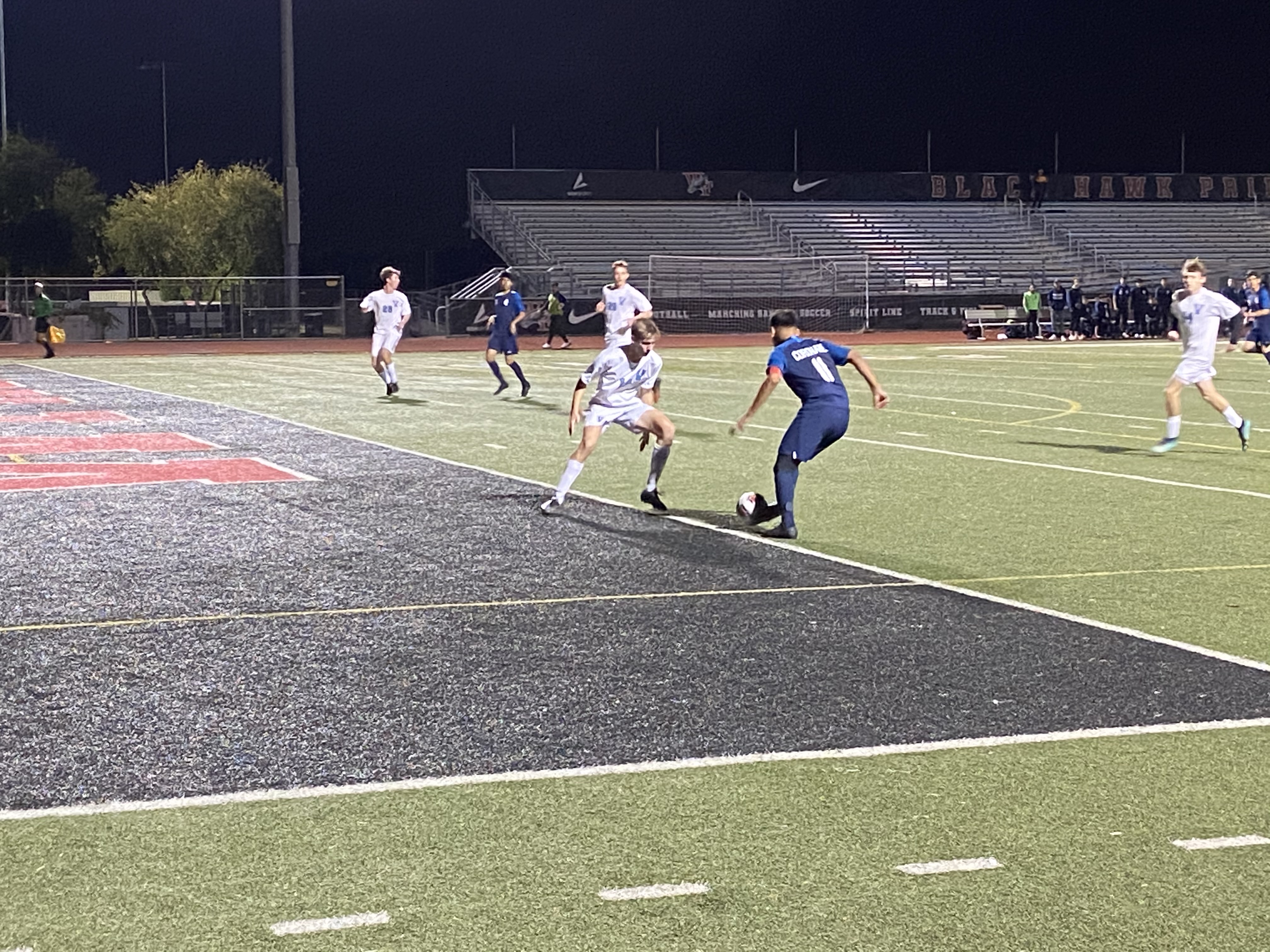 Ethan Greni is an ASU Cronkite School of Journalism student assigned to cover Coronado High School for AZPreps365.com
Coronado came into the 2020 playoffs looking to repeat as 3A state champions. Heading into the semifinals, the top-seeded Dons were the team to beat.
But, missing star senior Gabriel Gonzalez with a broken foot, the Dons title quest ended with a 2-0 loss to fifth-seeded Veritas Prep Wednesday night. Coach Nick Barker said his team played hard, but had some bad luck.
"We fought so hard, and soccer's a game of inches," Barker said. "We were unlucky with a few opportunities, but I felt like tonight we were just on the wrong end of a great story."
After the game, several players were visibly distraught. Barker brought them all together in a huddle, in what was obviously an emotional moment for everyone, especially the seniors.
The connection Barker has with his players is clear. He and senior Ezequiel Peralta both referred to their group as a family.
"We're going to move past this because we're all family," Peralta said. "We'll talk to each other. There's always next year for [the non-seniors], so we can come and support them."
"We're family. We love one another and I'm so proud of these boys," Barker said. "It'll sting tonight, but they'll hold their heads up high and we'll go after it again."
Senior captain Yohan Palafox showed leadership on and off the pitch, comforting some of his teammates after the game. Despite the result, he was proud of how they played.
"I saw effort, they never gave up," Palafox said. "They went hard, but things didn't go our way… I know these young men have talent and potential."
Palafox emphasized that everything this team does, it does together.
"We're all a team, you know, there's no 'I' in team," Palafox said. "We just had to keep pushing as a team, play like it was our last game."
Veritas Prep had plenty of scoring chances throughout the game, but didn't break through until junior Landon Briggs scored in the 63rd minute off a long throw-in by sophomore Brody Richter. According to Barker, this is something Coronado knew was coming.
"We knew what Veritas was going to throw at us heading into this game," Barker said. "We knew they wanted to play off long throws and corner kicks, and when you play a team that's that lethal in the air, it's not a matter of if but a matter of when they'll be able to put the ball in the back of the net."
Veritas Prep's second goal came in the final minute, when senior Jason Nunez scored off his own rebound in tight against goalkeeper Jose Rios. Rios faced four shots on goal and made two saves.
"He's come up with big saves all year for us," Barker said. "Unfortunately there were a few good opportunities that slipped by but he's just been a rock all year."
Barker also admired Veritas Prep's progression over the years.
"Veritas is an outstanding program that's been up-and-coming for the last several years," Barker said. "This is a well-earned reward for them, so I wish them nothing but the best."
---