Mountain View badminton coach finds peace after injury
October 8, 2019 by Maddyn Johnstone-Thomas, Arizona State University
---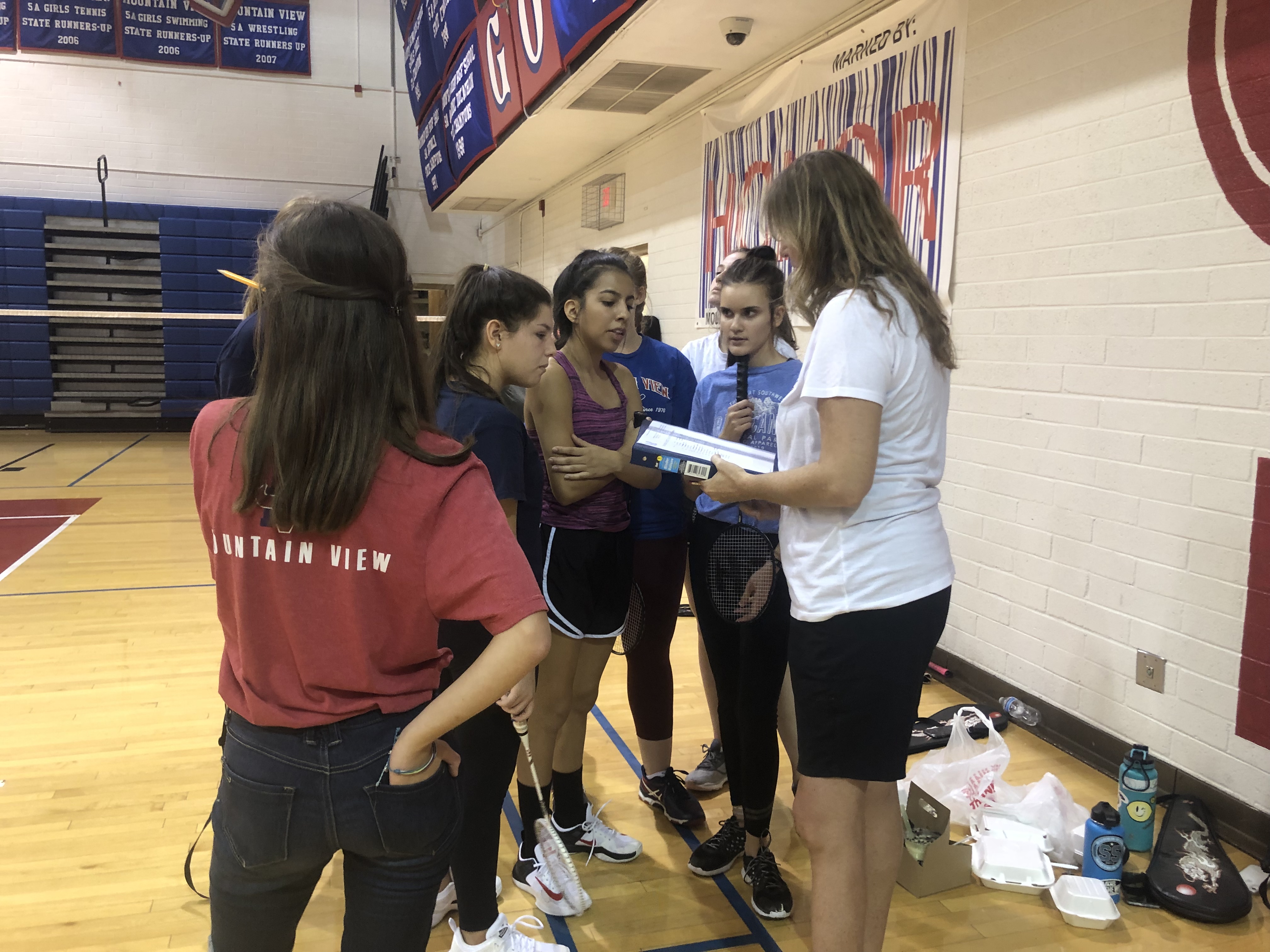 Maddyn Johnstone-Thomas is an ASU Cronkite School of Journalism Student assigned to cover Mountain View High School for AZPreps365.com.
From softball to tennis to volleyball, Tricia Ellsworth grew up around sports. It was something she found comfort in and came natural to her.
But her love affair with sports came to an abrupt end during college when she had a career-ending injury.
She tore her Achilles tendon and had to have reconstructive surgery. The amount of atrophy she experienced undermined her skills and ended her sports dream but spawned another career.
"I was trying to decide between being a physical therapist or teaching," Ellsworth said. "What led me into teaching was sports and being able to coach. I wanted to teach physical education, but more importantly I just wanted to coach. I knew that's where I was going to be happy and that's where I could make a difference. I knew that's where I could impact more people in a smaller group."
The Mountain View badminton coach began coaching during high school and helped coach the seventh and eighth grade teams. She coached high school athletes while she was in college. Ellsworth coached three sports but cut down to one after having two children.
"I've had wonderful teaching jobs, but I've definitely gotten closer to all the teams I've coached," Ellsworth said. "I keep in touch with girls that I coached 10-12 years ago. You get just a different relationship with athletes on a team, than what you can foster in a classroom."
She has been a teacher in the Mesa Public School System since 1995 and arrived at Mountain View eight years ago. Shortly after Ellsworth began at Mountain View, the school was in search of a badminton coach. She took the position with little experience and this year's team is 7-4 and in position for a postseason run.
After having to distance herself from volleyball, Ellsworth finds happiness through a new sport.
"Badminton I have such huge respect for, but I don't feel the need to get out and play it because I didn't grow up with it," Ellsworth said. "I've had to put my focus in what I can do. Not being able to compete anymore has been sad, but I'm just trying to find other ways to take those things that I've had growing up and teach it to other people and push myself in other ways."
Senior Danae Peters has played badminton for Ellsworth for four years. She sees the effort Ellsworth puts into the team to make them the best.
"I admire her passion for badminton," Peters said. "She is all about badminton and it totally helps us as a team get better because she knows so much, and she gives all of her knowledge to us and it helps us out."
Throughout her time playing sports, Ellsworth learned the importance of being confident in what you do. It something she continuously tells her team and wishes she knew when she was back in high school.
"When you're young and athlete you have things like natural talent and this work ethic and what was hard for me was confidence," Ellsworth said. "I didn't have enough confidence. I wish I could go back and give myself the confidence that I have now, but as a high school girl it just seemed like that was the one thing, I could've been better at. It's hard to see it in yourself when you're 16 or 17."
Senior Megan Welch is grateful for her coach's support on and off the court.
"I really like how she pushes us to be stronger and better because she can see our potential," Welch said. "She is willing to pull at you in order for you to reach your full potential."
Ellsworth tells her team the value in loving what you do. She often talks with her team about the connection between sports and the real world.
"Sports are a lot like life," Ellsworth said. "You're going to have some good times and some good wins and then there's going to be hard times. Not everything is easy. I feel like anything that is really meaningful is going to be hard. That's the stuff you're going to work the hardest at and it's going to make the most impact in your life. I keep trying to remind them that this is badminton, but this is also your life."
---