Seton Catholic's season of tragedy and triumph
May 3, 2019 by Alex Simon, Arizona State University
---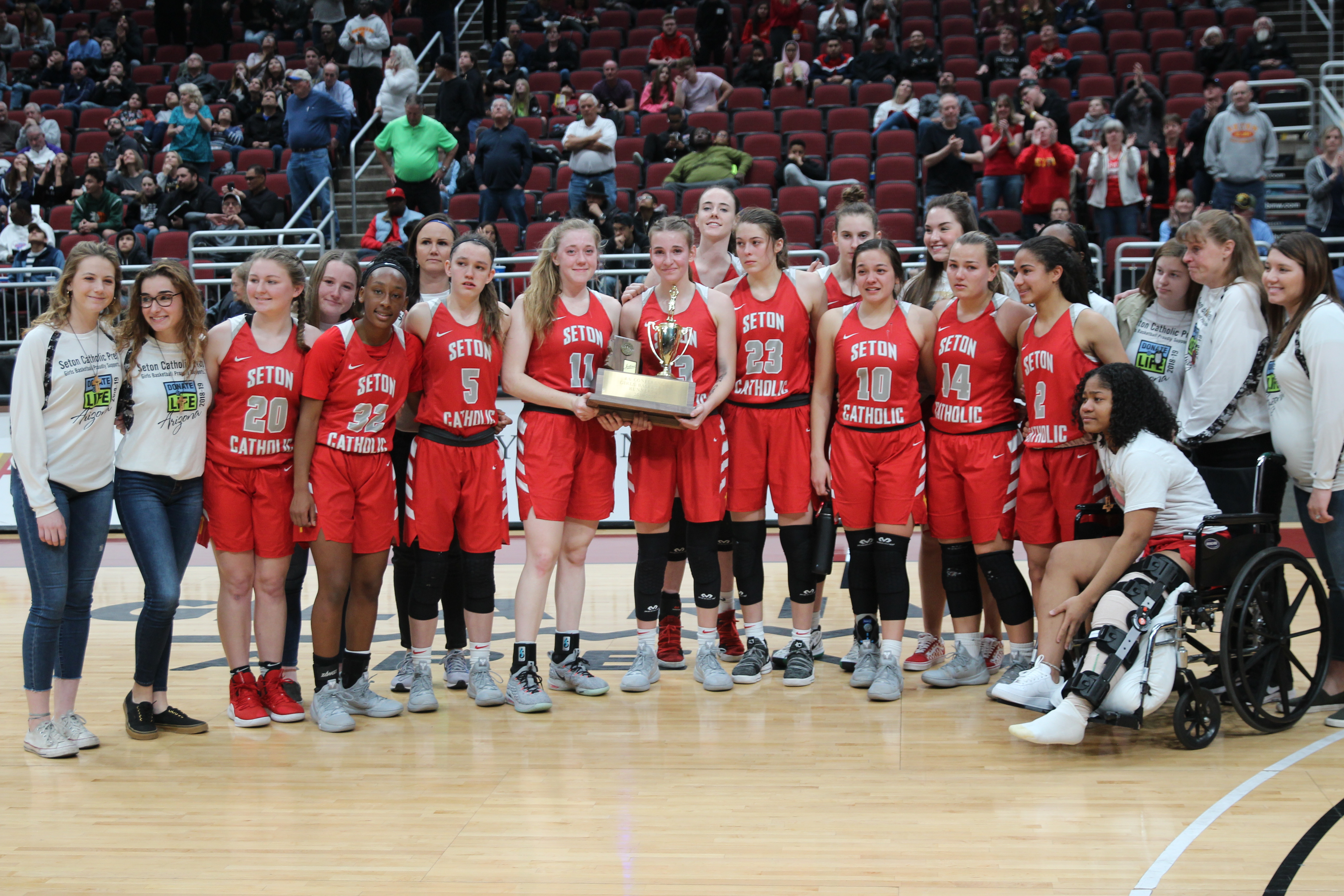 The halftime buzzer sounded at Gila River Arena in the Arizona Interscholastic Association (AIA) 4A girls basketball championship game, and Seton Catholic Prep's Hollywood-worthy season appeared poised for a fairytale ending.
Seton Catholic, the three-time defending 4A state champions yet still the underdog against the bigger, faster and stronger top-seeded Shadow Mountain, fought their way to an early lead and used its defense and discipline to slow the game down.
As the teams went to their locker rooms, the scoreboard showed the fruits of their arduous labor: Seton Catholic Sentinels 16, Shadow Mountain Matadors 16. In the final game of one of the most difficult seasons imaginable, those cheering for Seton Catholic could feel the swelling of the most renewable resource in the building: hope.
"As parents, at halftime, honestly, we were up in the stands like, 'Ok, wow, we're in this,'" said Amy Thompson, mother of senior guard Kendyl Thompson. "We're like, 'This might happen.' They played incredible."
Head coach Karen Self could barely contain her excitement as she talked to her team at halftime. Her message was simple: "Come on, you guys, we're right there!"
But just getting to this point, tied at halftime, was an accomplishment, something that a team so outmatched could only do if playing for a higher purpose.
Tiffany Tate-Eckes was that higher purpose.
"I have no doubt that they were digging deep for Tiff," Amy Thompson said. "That was solely the reason they were able to perform at that level up to that point."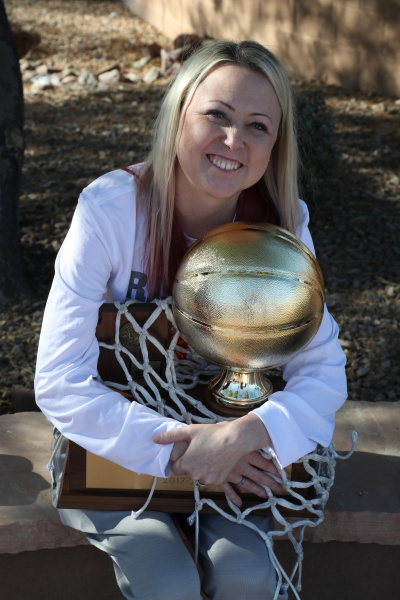 Tiffany Tate--Eckes holding the 4A girls basketball championship trophy from the 2017-18 season. (Photo courtesy of Seton Catholic)
A new sisterhood begins
The day that McKenna Klecker came home from school in eighth grade and said she wanted to attend Seton is still a vivid memory in her mother Lori's mind.
McKenna had been in the public-school system for most of entire childhood and seemed to be destined for Hamilton High School. The sudden reversal caught Lori off guard.
"That's a big change. She had been in public schools, she's never worn a uniform, all of her main friends are coming over here, plus for us there was the commute and the cost," Lori Klecker said. "We said, 'Ok, if you're going to do it, here's our expectation of grades.' And she went through everything and made a very adult decision at a very young age."
The major deciding factor for McKenna's switch? Basketball.
Klecker played club basketball in middle school with the East Valley Heat, where many of the girls bound for Seton Catholic played. One of those girls included Kendyl Thompson.
Thompson, like many other Seton Catholic students, attended St. Mary Basha, a K-8 Catholic school less than three miles from Seton's campus and considered to be a feeder school. Once accepted, she started attending the girls basketball program's open gym workouts in the summer prior to her freshman year, where she first remembers seeing Klecker.
"I remember doing drills with her and thinking, 'Oh, this is my competition,'" Thompson said. "I remember Karen saying, once we were on the team, 'Oh, you guys are going to spend so much time together, you're going to become best friends.' And I was like, 'No way, not gonna happen.'"
Running those open gym workouts was Tate-Eckes, who quickly took a liking to the two soon-to-be freshmen. For Lori Klecker, meeting Tate-Eckes for the first time led to a quick display of the enthusiasm and affection she constantly displayed.
"You think your kid has talent, but you have your parent blinders on," Lori Klecker said. "She went to this open gym and I'm like, 'Hi, I'm McKenna's mom,' and Tiff goes, 'I love your daughter. I love your daughter so much. She is so great, she is this and that.' I am just like, 'OK.'"
In was the talent that Tate-Eckes saw in both of them that led to them making the varsity team as freshmen before the season.
"Freshman year, we were both so scared," Thompson said. "We never really knew specifically if we were going to be on varsity team, so I think we Facetimed each other and said, 'Wait, I think we're actually on varsity." We celebrated it, and that's one of my favorite memories with [Klecker]."
From there, their connection blossomed beyond the prediction Tate-Eckes gave to Thompson. The two became the sister that neither of them has in their own families.
"We butt heads and definitely came close to killing each other a few times," Klecker said with a laugh.
Thompson agreed and added, "We definitely butt heads, and we have that sister dynamic where we love each other and hate each other at the same time."
Conflicts are a part of any human relationship of substance, and both seem to know how to simultaneously push each other as far as possible without going over the edge. But with their time at Seton ending soon, Thompson thinks there may need to be a little separation as graduate and go on to college.
"Even now, we've been talking about, 'Oh, we're going to miss each other so much,'" Thompson said. "She wants to take me with her to college, and I say we definitely could not room together because we'd probably kill each other."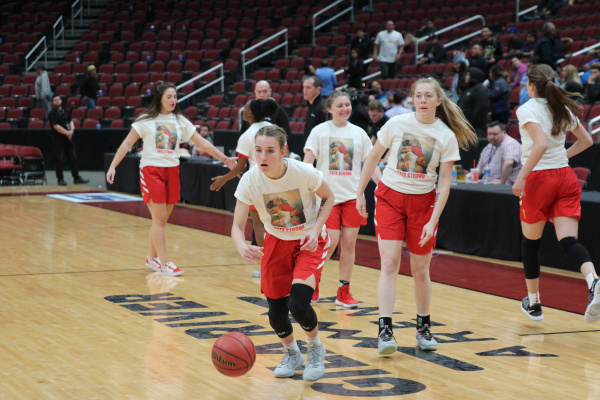 Seton Catholic senior Kendyl Thompson dribbles during warm-ups of the 2019 4A girls basketball state championship game with McKenna Klecker right behind her. (Photo by Alex Simon/AZPreps365)
An indelible impact
The entire time Tiffany Tate-Eckes was with Seton Catholic's basketball team, it seemed like she was battling one health issue after another.
Cystic fibrosis since birth. Two double-lung transplants, one in 2012 and one in 2014. Four battles with skin cancer. Three fights with esophageal cancer.
But Tate-Eckes never let that stop her. She won two state championshipswhile playing at Chandler High School in 1999 and 2000, despite playing with significant lung deficiencies.
Self remembered coaching her back when Tate-Eckes was in middle school, sometime in the mid-1990s, fresh off her playing days at Arizona State. She admired what Tate-Eckes accomplished at Chandler and used a family connection to get her onto her coaching staff at Seton.
"Her brother Casey came here to coach soccer when we had a soccer opening and that's how I got her back," Self said. "I was like, 'Casey, what's Tiff doing? Would love to get her out here coaching with us.' She was a perfect fit and it was awesome."
Tate-Eckes immediately wove herself into the fabric of the program, earning the respect of both the Seton community and of the other programs around high school girls basketball. One of those opponents was Jennifer King, who was an assistant at Coconino High School in Flagstaff when she first met Tate-Eckes.
In the 2008 AIA 4A Division II playoffs, Coconino was hosting Rio Rico High School, with Seton Catholic set to take on the winner. Tate-Eckes drove up to Flagstaff — elevation 7,000 feet — to watch the game, which Rio Rico won, and talked to King after the game to get a full scouting report. King didn't realize for years the breathing difficulties that such a trip caused Tate-Eckes.
"Flagstaff has a high elevation, so I know now that coming up there was tough, but back then, I wouldn't have known it. That was typical of Tiff," King said. "I think back to that time and I would have never have known."
It was only when King joined the Seton Catholic coaching staff as an assistant in 2011 that she learned the extent of Tate-Eckes' health issues, sitting by her side on the bench through the two double-lung transplants and everything else life threw at her.
But in their eight years together on staff, King saw how Tate-Eckes used her own physical challenges and difficulties to teach and inspire the girls to take care of themselves.
"She's very intense, she models what she expects of the girls," King said. "And she has very high expectations all the time, as far as character, how they're playing on the court, how they are off the court, and especially how they maintained the health within their bodies.
"I don't know how many times she would talk to the girls after practice, or before a big game, or when we had a big tournament coming up or just a long stretch, where she would talk to them about taking care of their bodies and making sure they're getting rest. I think that is partially due to her having to take care of her body, but also just the expectation she had on their character, their mind and their bodies."
But the key to that intensity is to back it up with genuine compassion and care for the person, not just the basketball player. It's what Amy Thompson saw when Tate-Eckes asked to meet at a Starbucks during Kendyl's junior year.
"She was like, 'I kind of want to just talk to you about Kendyl. How are things going? How does she feel like the year is going?'" Amy Thompson said. "She's about the whole girl. Obviously, she wants them to succeed in the basketball portion of it, but knowing that it's not just the game, there's a lot of other things going on, too. Her wanting to know that left me so impressed."
But Tate-Eckes did that directly with her girls, too. Sometimes it was a little memento, like a personalized Barbie doll for each player on the team one year. But the most frequent and most powerful thing Tate-Eckes did was write letters to the players, personalizing each one to what each person needed at the time. Those letters were part of the love Tate-Eckes showed the players that a mother like Lori Klecker appreciated most, especially when her daughter wasn't playing well.
"She just put my mind at ease, knowing she was there for McKenna all that time." Lori Klecker said. "You hand your kids over to the coaches and they spend more time in season with the coaches than with me and her dad. It was really good to know that she had that support system at that time and had someone with her best interests at heart."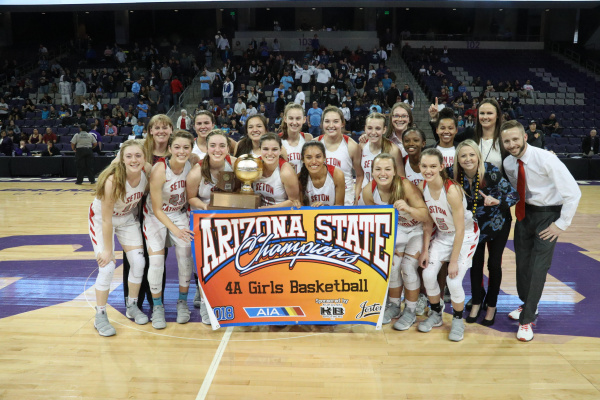 Seton Catholic celebrates winning the 2018 4A girls basketball championship at Grand Canyon University, with assistant coach Tiffany Tate-Eckes on the right side. (Photo courtesy of Seton Catholic)
A sudden, tragic turn
Seton Catholic's girls basketball program has been one of Arizona's best under Karen Self, winning their third straight state championship and 10th in program history in 2017-18. Tiffany Tate-Eckes was an assistant coach for seven of those titles, even as she fought a litany of health issues.
Tate-Eckes didn't carry her burden to the basketball court, though, showing an intensely positive attitude that rubbed off on her colleagues and players.
"Tiff was such a fighter. She faced crisis after crisis with her health her entire life," Self said. "For these guys, all they ever knew was, 'Tiff is struggling. Tiff had a return of cancer, and she fought it and she beat it.' And she always won. So, this time, it was scary, but I think we all just thought she was going to beat it."
As Tate-Eckes undertook chemo and radiation treatment for esophageal cancer this past summer, her body responded well and things appeared to be trending up, in Self's eyes. Tate-Eckes was able to attend practices throughout the summer and into the start of the school year.
But in early September, Tate-Eckes noted a change, and after going to the hospital, the diagnosis came back that her lungs were failing again. She died peacefully on Sept. 29, just before the start of preseason practices. To the head coach and longtime mentor of Tate-Eckes, the suddenness was the most challenging aspect for the team.
"The speed that she declined, from the beginning of September to the end of September, was so rapid, I guess we just all thought, 'She's gonna beat it again. That's just what Tiff does. She fights and she wins,'" Self said. "I think that was particularly challenging for the kids. They've only seen her fight and win, but this time, her body just couldn't overcome all of the damage that had been done."
The entire Seton community mourned, with multiple generations of girls basketball players returning for the funeral. But there were added concerns for the current group of seniors, those who had been around Tate-Eckes for years and now had to deal with the instant void in their team.
"It was scary," Lori Klecker said. "It's senior year. She's trying to figure out where to go to college, she's got the pressure of trying to win another state championship. You have all of these things that are naturally happening, and then to add something like that on top of it? It was concerning. There were a lot of tears. You ached for her and all the girls."
While figuring out how to process everything, Self saw her players mature in the face of major adversity.
"Unfortunately, they've been asked to face some real tough stuff at too young of an age," Self said. "But I don't they would trade their relationship with Tiff with the avoidance of that. It has made them stronger and it has made them have some life perspective that maybe most kids don't have."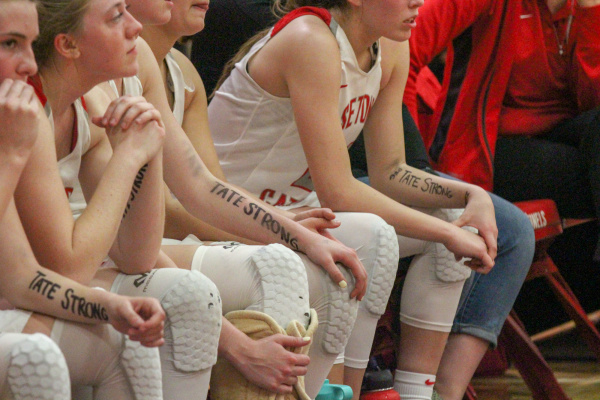 Seton Catholic players wrote #TateStrong on their arms throughout the 2018-19 season, amongst other tributes the team had for Tate-Eckes. (Photo by Alex Simon/AZPreps365).
A season of struggles, resiliency
When Seton Catholic's season began on Nov. 19, just 51 days after Tate-Eckes' death, the combination of the emotional exhaustion from the months leading up to the season and the team dynamic — the team consisted of mostly underclassmen and no juniors — made for a rocky start.
After losing a combined nine games in the three previous seasons, the Sentinels lost five times before the calendar flipped to 2019, including four times by double digits.
"It was a struggle at first," Amy Thompson said. "I think everyone was trying to find their way, find out what the new normal was going to look like."
Then, on Jan. 11, the unthinkable happened: for the first — and only — time in Klecker and Thompson's career, Seton Catholic lost on their home floor, a 60-54 overtime defeat to Mesquite High School, also a reigning state champion and newly reclassified section rival.
To Lori Klecker, it was after that loss that she saw a switch get flipped for both McKenna and for Kendyl as leaders.
"I think that was kind of a turning point for them to say, 'It's now or never, but we have to do something,'" Lori Klecker said. "You never want your kids to go through that, but you understand that they're going to have to go through that at some point in life. It was a rough season because of that, and the fact that her and Kendyl had to step up into a leadership role, as well.
"The combination of that, it was definitely a rough start to the season in a lot of ways. But seeing how they went through it and how they rallied, I know, for all of those girls, it's going to shape them as adults and help them in the long run."
Before their next matchup with Mesquite on Jan. 29, Thompson and Klecker put together a letter, just like Tate-Eckes would, and read it aloud to the team and coaches. The Sentinels won by 21.
Seton kept on winning from there, splitting the section title with Mesquite and taking the No. 2 seed in the 4A state tournament. They had one more tussle with the Wildcats in the 4A semifinals on Feb. 22, with Seton edging the Wildcats 30-26 behind some key free throws from Klecker.
For a longtime coach like Self, the true nature of her program is revealed in the moments where she doesn't have to do any coaching at all. Her senior players and captains take over that for her.
"They set a standard that they weren't going to accept anything less than your best at all times," Self said. "Coaches can ask for that all the time, but when your seniors buy in and your seniors teach that to the younger kids through their interactions with the younger ones, they're the ones who help carry on that tradition and they're the ones that carry on that standard for the next generation."
Self was quick to admit how much she was leaning on her two four-year varsity players at multiple points throughout the season. For Thompson, the ability for her and Klecker to be there for each other was vital.
"We knew it was going to be a lot more difficult, just with everything that was going on," Thompson said. "We knew it was going to be more than just basketball, it was going to be having to deal with stuff emotionally rather than just physically. I think it was really important to do that together and I am so happy I didn't have to do that alone.
"We consulted with each other a lot on what we should say, and there were a lot of times where we decided we should have a team talk and address things with the team. I was really glad to have her."
For Klecker, reflecting on the challenges this team had to overcome has given her a perspective on the season as a whole, leaving her with gratification for the team's endurance through it all.
"I'm really proud of how much we grew this season," Klecker said.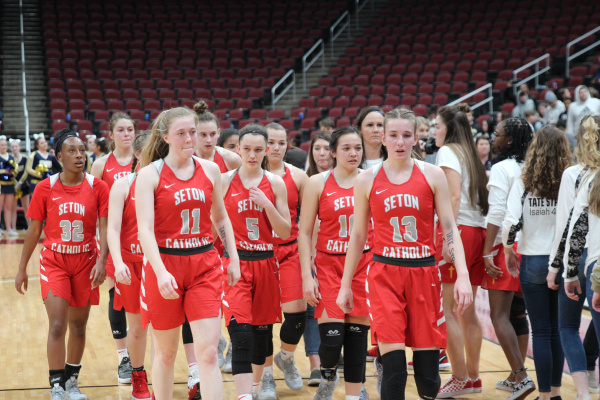 Seton Catholic seniors McKenna Klecker (11) and Kendyl Thompson (13) lead their team through the handshake lines after the AIA 4A girls basketball state championship game. (Photo by Alex Simon/AZPreps365)A painful yet fitting end
In just a few seconds, Karen Self's excitement over the first half melted away as her team responded to her encouragement.
"I'm like, 'Come on, you guys, we're right there!'" Self said. "And they were like, [panting] 'Yeah, but we're right there.' We walked out of that locker room and the coaches could see.
"I thought, 'This is not going to go well.'"
It was the voracious and grueling fight Seton put up to keep the game tied going into halftime that was their downfall against the bigger, stronger, and faster team. Shadow Mountain blitzed the Sentinels to open the second half, and combined with stifling defense, the Matadors outscored Seton Catholic 23-9 in the third quarter. The fourth quarter was more of the same.
Diagnosis from the head coach? "They were done. They were just so drained," Self said.
In the immediate aftermath of the game — the handshake line, the final group huddle, the trophy ceremony and in the locker room — McKenna Klecker and Kendyl Thompson continued to do what they had done for Seton Catholic all season long.
In spite of the pain, exhaustion and heartbreak they were feeling, Klecker and Thompson led the way for the Sentinels. They were first in the handshake line to congratulate Shadow Mountain, and they received the runner-up trophy from the AIA and put a smile on their faces, even as their tears ran down.
"It's not just about that one game," Thompson said. "It's about everything we overcame and having everybody by my side and not going through that alone."
And for Self, given some time to reflect on the game, the struggle, the season, the purpose, and Tiff, the result of the championship game takes on a new meaning.
"In the end, Tiff fought and fought and fought and continued to fight what was inevitably was going to be a losing battle," Self said. "And how she conducted herself during that process means everything. I think she lived as long as she lived because she had that fighting spirit.
"And so maybe it is apropos that we came up short."
Perhaps short in on-court accomplishment, but tall in what mattered most to Tate-Eckes: an enduring, fearless attitude, with the character of champions to match it.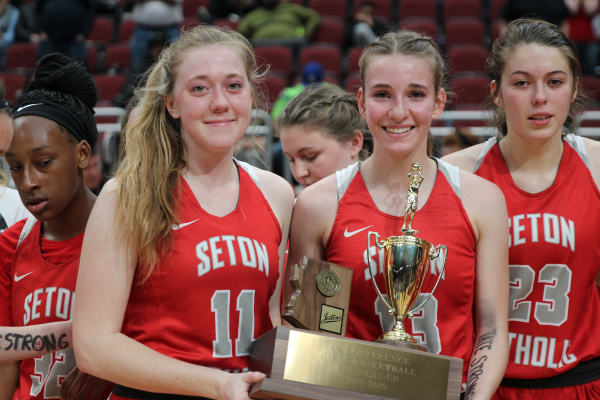 Seton Catholic seniors McKenna Klecker (left) and Kendyl Thompson (right) hold the runner-up trophy after the AIA 4A girls basketball state championship game. (Photo by Alex Simon/AZPreps365).
---