Seton shortstop's growth culminating in stellar senior season
April 16, 2019 by Alex Simon, Arizona State University
---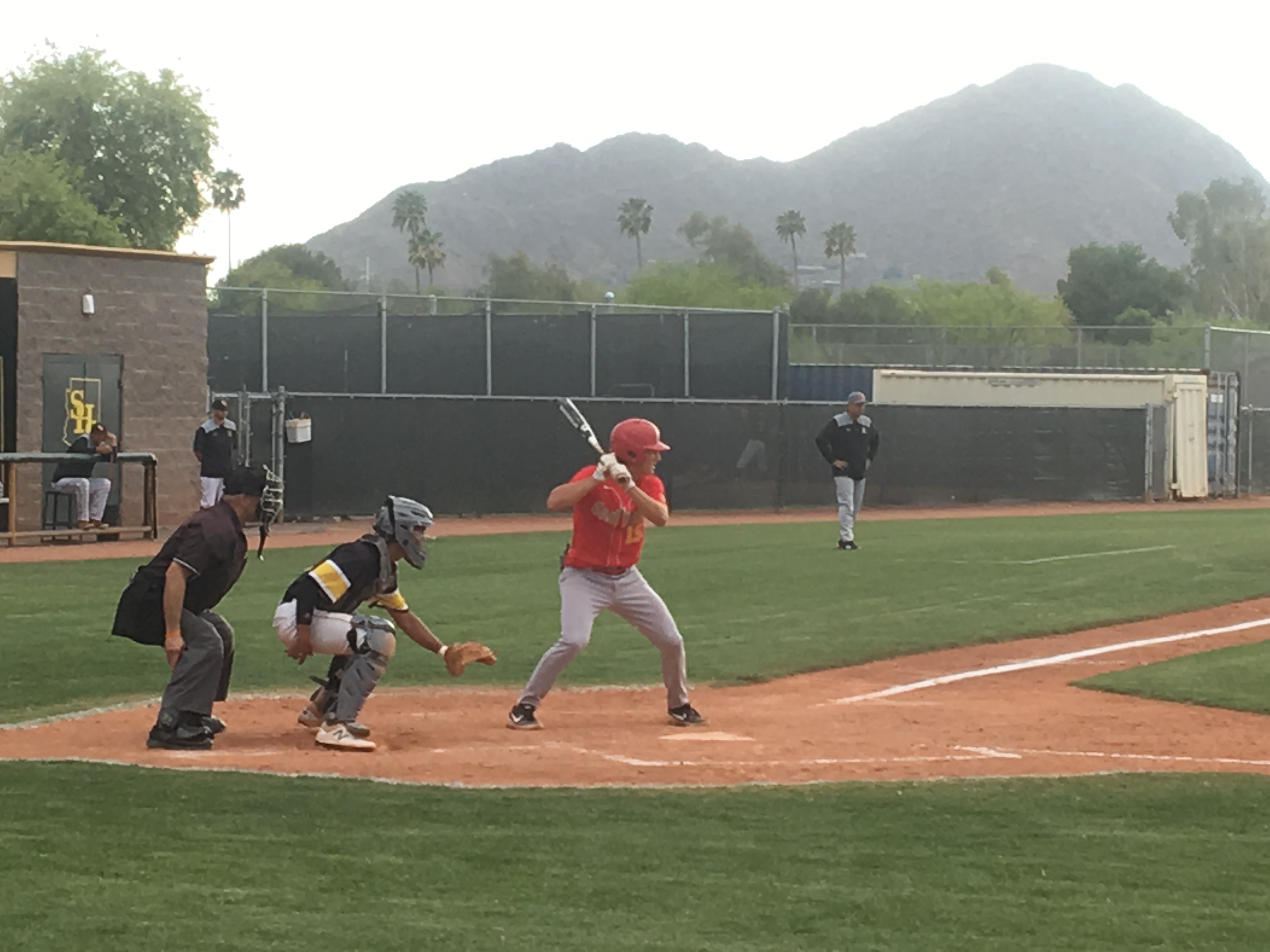 There are times when Heather Johnson is out with friends or on the town that people wonder who is the 6-foot tall man accompanying her.
And, if she hadn't seen the growth of her son Ryan Johnson happen before her eyes and on their nightly walks with their dog, she may not recognize him, either.
"Yeah, I don't know where that came from," Heather said with a laugh. "I tell him all the time that it's so weird to see that he's my kid."
Growth is a theme for Ryan Johnson as he nears the end of his stellar senior year at Seton Catholic Prep in Chandler. Physically, going from a 5-foot-4 freshman to a 5-foot-7 sophomore to his current 6-foot, 175-pound senior. Out in the field, building arm strength as he moved from second base to shortstop and reliable pitcher. At the plate, developing from a light-hitting, little-used sophomore into a mainstay in the middle of the lineup that's statistically a top-10 slugger in the state.
But where the growth has mattered and meant the most to Seton Catholic head coach Brian Stephenson has been off the field, where Johnson's work ethic and drive were formed that has led the Sentinels as they get ready for the playoffs.
"You can look at his stats and look at everything he's done on the baseball field, but the most important thing he brings to our program and our school is the type of young man he is," Stephenson said. "I've been coaching for a while, and he's one of the best kids I've ever been around. I tell my kids I hope they end up just like him."
That diligent foundation helped Johnson build muscle to match the growth spurt and fill out his body by his junior year, something noticed by fellow Seton senior Mike Kinney, who Johnson grew up playing with on the travel team Tempe United.
"He was always small," said Kinney, whose parents have known Ryan's father since high school. "He was really, really small, but he developed and put in the hard work in these last few years of high school. I'm proud of him for that."
The physical maturity helped convince Stephenson to move Johnson to shortstop last season, something that Johnson credits with helping build his confidence during his junior year. He hit .435 on the season, with four homers, five doubles and 27 RBIs.
But right before the playoffs, Johnson broke his thumb sliding into a base, an injury he was still able to bat through, but unable to play in the field because of the cast. It's why Johnson has carried a protective guard in his back-right pocket when he hits, ready to put it on once he reaches base.
It's something he's had to do quite often this season, in fact. Johnson has reached base in all 20 games Seton Catholic has played through April 16, as his .508 batting average and .592 on-base percentage place him among the best in the state. He's also shown a knack for putting some pop behind his hits, tallying nine doubles, three triples and six home runs to give him a 1.101 slugging percentage and a 1.692 on base plus slugging percentage, each in the top 10 in the state.
"He's had one of the best seasons that anyone I've ever coached has had," said Stephenson, a longtime high school baseball coach at various schools throughout the Valley.
Johnson said his approach at the plate is simple, even as it has adjusted throughout the season.
"Just try to hit the ball hard. See the ball, hit the ball," Johnson said. ""I've seen a lot more offspeed [recently], so I just wait and try to get the right pitch. Sounds easier than it is, but I'm just trying to get on base for my teammates."
For Kenney, who typically follows Johnson in the fifth spot in the batting order and himself is batting .417, knowing Johnson is likely to be on base ahead of him has been a welcomed sight.
"It's a good spot to be hitting behind," Kenney said. "It's just a relaxing feeling. It makes me get comfortable up there."
In mom's eyes, the ability to call on his experience and previous successes has helped with his approach and led to him flourishing this season.
"I feel like he's more confident and calm," Heather Johnson said. "Before, I felt like he was very hard on himself. I feel like he is doing less of that this year."
As Seton finishes out its regular season, Johnson isn't focused on his season-long streak of reaching base. His focus is on helping the Sentinels try to win their first state championship since 2006, in each little step needed to do so.
"I'm just trying to give our team the best chance to win each game, and doing so one pitch at a time," Johnson said.
That mentality is why Stephenson calls him "a coach's dream" as a leader, and believes the success Johnson has achieved is entirely deserved.
"I believe that, if you do all the things you're supposed to, you're a great kid, you get rewarded," Stephenson said. "What he's doing right now, he's getting rewarded for being the type of person that he is and the type of work ethic that he has."
And yet, despite all that, the coach can't help but crack a little smile at the one thing he wants from Johnson that his senior can't give him: more time to coach him and be with him.
"Selfishly, I wish he could stick around a little longer," Stephenson said. "He makes my job enjoyable."
---