Kim Ohlinger: The heart and soul of SCA's beach volleyball team
April 3, 2019 by Patty Vicente, Arizona State University
---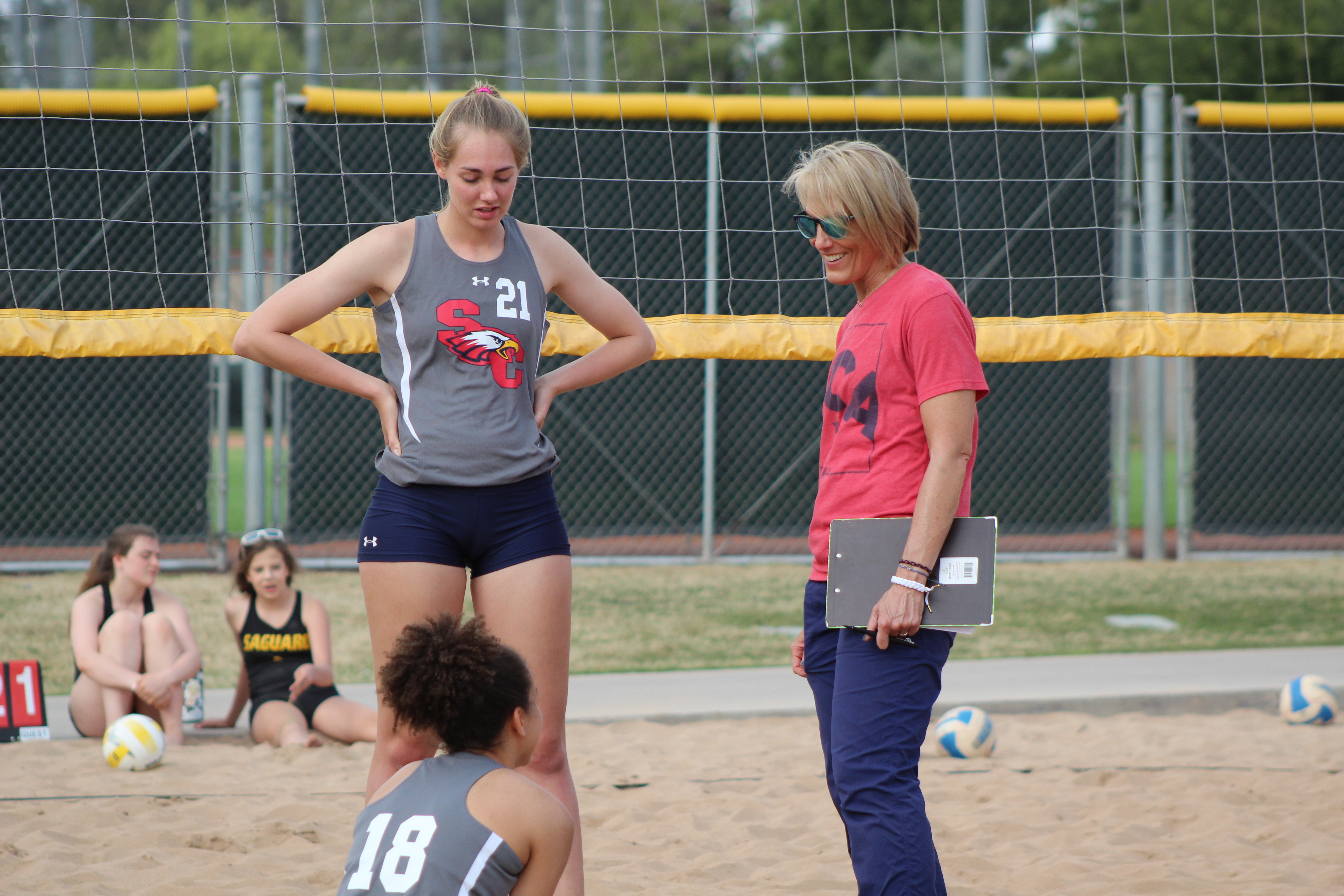 According to some of her players, including junior Taylor Raiola, Scottsdale Christian Academy beach volleyball coach Kim Ohlinger likes to have fun and let loose.
"[She] is almost like a child at heart," Raiola said. "She likes to make us laugh and help us relax."
Her bright smile is the first thing her players see as they walk off the sand before she starts making jokes and hyping them up about their performances.
"I'm pretty upbeat most of the time," Ohlinger said. "I love people and truly enjoy building relationships with my players and families."
Before and after the matches, Ohlinger makes sure to stop and talk to all of the family and friends there to support her players. She even remembers birthdays and important days of her team's families as well.
Lauren Ohlinger praises her mom for giving an example of how to act.
"[My mom] is honestly one of the sweetest and most kind women I know," she said. "She was also the most competitive people I know! I'm thankful she passed it on to me."
The Naperville, Illinois started playing the sport in eighth grade, and it has been a part of her life ever since. Eventually, Ohlinger would move out to Arizona and continue her playing career at Horizon High School.
She would then go back out to Illinois to compete at the Division 1 level at Western Illinois University in Macomb, where Kim Ohlinger was a six-rotation outside hitter.
A couple of months ago, the existence of this new SCA team wasn't finalized yet, which was something that left the coaches wondering if they would be able to pull this off.
Ohlinger praises the SCA administration and athletic director Eric Dall for their efforts to make this happen.
"Our hope for this new season is to build the program through a sense of flexibility, ease and relaxed feel on the courts," Kim Ohlinger said. "We don't want these players to feel any pressure to have to be anything but themselves. All while having a good time and growing closer as friends."
The line between coaches and players is almost blurred with the amount of fun and memories they share with one another.
"A couple of my favorites is our mid-bus rides, Dutch stops, inside jokes and the way we can tease each other, laugh at and laugh with each other," Kim Ohlinger said. "I really appreciate them putting up with my obsession with taking photos. We really like one another and it shows."
Kim Ohlinger's contagious personality is not something only the players notice, but also assistant coach Emma Villasenor, who has worked alongside her for the past two years as an indoor volleyball coach.
"We get along really well," Villasenor said. "We have the same mindset and sometimes it's like we are the same person."
While her fellow Eagles all point to her as the heart and soul of their young team, Kim Ohlinger begs to differ.
"I'm the one blessed by being around these kids," she said. "It's because of them I coach. They're my heart and soul."
---